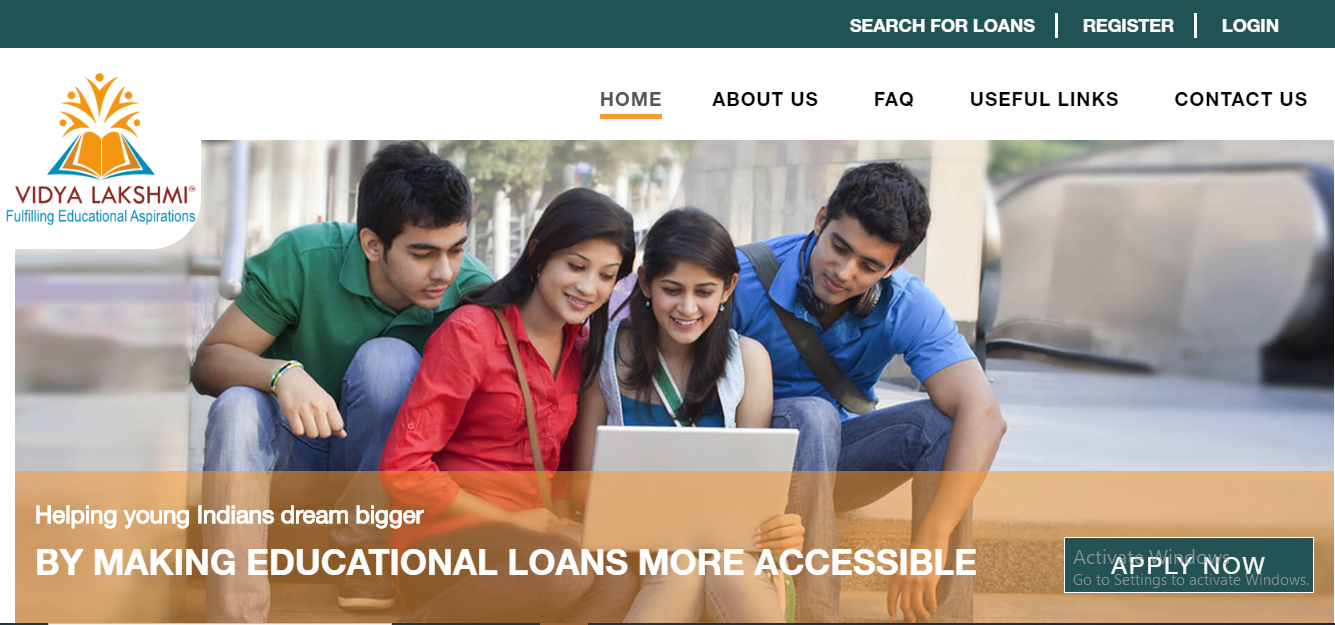 Vidya Lakshmi Portal is the portal that delivers all the required features for Education Loan Scheme By Prime Minister Narendra Modi and easy ways to apply education load scheme.
Following the 3 easy step will make you accessible to all the possible banks where you can apply for the loan.
Register at the website https://www.vidyalakshmi.co.in/
After registration > and email verification > log in.
After login into the account fill the form > Common Education Loan Application Form
Then you can apply for several banks and check your status for the approval.
The government of India had launched a portal on 15th August 2015 "http://www.vidyalakshmi.co.in". At the time of launching 5 Banks were incorporated their framework with the site but now almost all the national banks in India have integrated their system with the Vidya Lakshmi Education loan Portal.
The gateway has been developed and maintained by NSDL e-Governance Infrastructure Limited (NSDL e-Gov) under the direction of Department of Financial Services in the fund service, division of advanced education, Ministry of HRD and Indian Banks' Association.
Shri Arun Jaitley, Honourable Union Finance Minister in his budget speech for FY 2015-16 said: "India is one of the youngest nations in the world with more than 54% of the total population below 25 years of age. Our young people have to be both, educated and employable for the jobs of the 21st century. The Prime Minister has explained how Skill India needs to be closely coordinated with Make in India. Yet, today less than 5% of our potential workforce gets formal skill training to be employable and stay employable.
With a view to enabling all poor and middle-class students to pursue higher education of their choice without any constraint of funds, I propose to set up a fully IT-based Student Financial Aid Authority to administer and monitor Scholarship as well Educational Loan Schemes, through the Pradhan Mantri Vidya Lakshmi Karyakram(PMVLK). We will ensure that no student misses out on higher education for lack of funds. The IT-based mechanism under the Pradhan Mantri Vidya Lakshmi Karyakram is expected to provide to students a single window electronic platform for Scholarships and Educational Loans."
Vidya Lakshmi Portal is the first kind of portal which provides the complete information about education loan and also provides facility to apply for education loan online provided by banks.
The entry will give data about instructive credit plans of banks; normal instructive advance application shape for understudies; office to apply to various banks for instructive advances; and office for banks to download understudies' advanced applications. The website also provides facility to check the loan status, inquiries about the loan process, provide linkage facility to other National Scholarship Portal.
This activity expects to bring on board all banks providing education loan. It is expected from this initiative that the students across the nation will be profited by this act of the legislature by making accessible a solitary window for access to different education loan plans of all banks.
In refernce of education loan scheme by prime minister narender modi also check very Important Link to render for the prime minister special scholarship scheme pmsss jammu and kashmir 2020-21