Department of Civil Engineering in Universal Group of Institutions focuses on education in the areas of structural and environmental engineering. The departmental activities embrace planning, design, construction and management. The civil engineering department is equipped with all facilities of teaching and research activities related to pedagogical approach.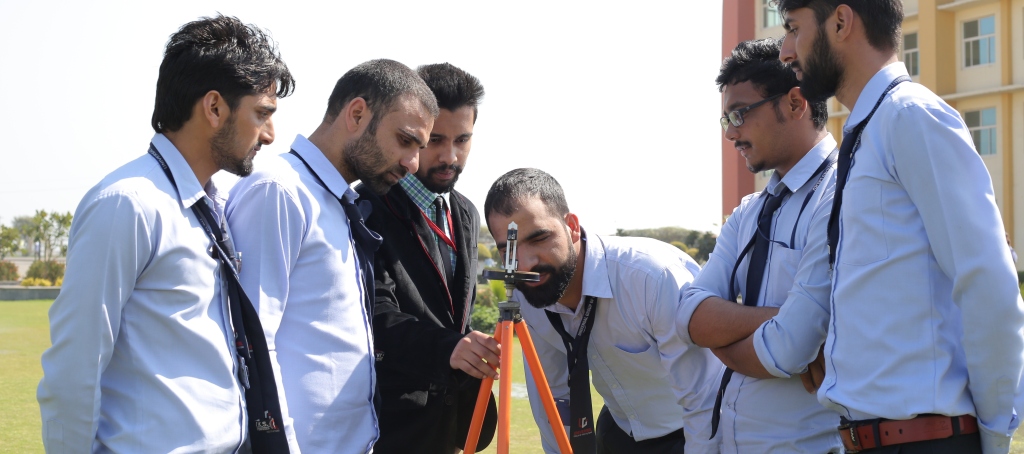 Learning of civil engineering works with newer methods have been a continuous process. Attention to high rising buildings, express ways, bridges, water ways, navigation, irrigation, highways, airports, dams and so on so forth is the outcome of continuous progress in the research and technical knowhow of the civil engineering works.
Newer methods are proposed to improve the life of the projects and the economy in implementing the process.

This progress has been going on with the research work and the test conducted in the laboratories for their feasibility. The department of civil engineering in Universal Group of Institutions has been established to give an exposure to budding civil technocrats to various challenges in the profession. The students imbibe theoretical concepts in classrooms, while practical exposure is ensured through hands on experience in the labs and guest lectures by experts from industry.
Laboratories
All laboratories have been provided with complete range of equipment's and apparatus which are required in training the B.Tech students of civil engineering. Student learns a lot and acquires a sound knowledge of practical application in the laboratories.

The department is running with excellent labs such as
Survey laboratory
Fluid mechanics laboratory
Transportation laboratory
Concrete and soil testing laboratory
Strength of materials laboratory
Structural engineering laboratory
Environmental engineering laboratory
Students conduct practical's for which highly qualified staff and faculty is engaged. The civil engineering department has eminently qualified, competent, dedicated, and well experienced faculty. The student are also taken on educational trips to various projects such as Hathnikund Barrage, Bhakra Dam, Ropar Canal Head Works and other places of interest for learning at the sites. Samples of soil and water are collected and accepted for testing of their quality. Never the less, the civil engineering department in Universal Group of Institutions is going to become as asset in adjoining area.