About Us
Universal Group of Institutions is headed by a body of academicians and set up by Universal Educational Society to provide world class quality education to students. It has been conceptualized by a great visionary, Chairman, Dr. Gurpreet Singh. The Institutions comprising Universal Group are dully approved by AICTE, New Delhi and Punjab Government.
UGI endeavours to plan several programs that will support education, social development & empowerment to communities in the North Indian region. Our efforts are aimed at higher benchmarks and process of refinement toward "Creating a thinking Professional".

Affiliation
The Institutions are affiliated to Punjab Technical University, Jalandhar, Punjabi University, Patiala and Punjab State Board of Technical Education & Industrial Training (PSBTE & IT), Chandigarh, Punjab Nurses Registration Council, National Council of Teacher Education, Bar Council of India, Pharmacy Council of India and Central Council of Indian Medicine.  Universal Group of Institutions got International Organization for Standardization (ISO) quality certification in the very first year of its inception.
Vision
To provide education that transforms ideas into actions, opportunities into global advantage and capabilities into successful career and dreams into realities.
Mission
"UGI focuses to commit itself, for delivering the best possible educational experience and learning opportunities to assert the standard and to fulfil future goals."
Institutions
Universal College (Academic College)
Universal College of Education
New Universal College of Education
Divya Shiksha Gurukul College of Education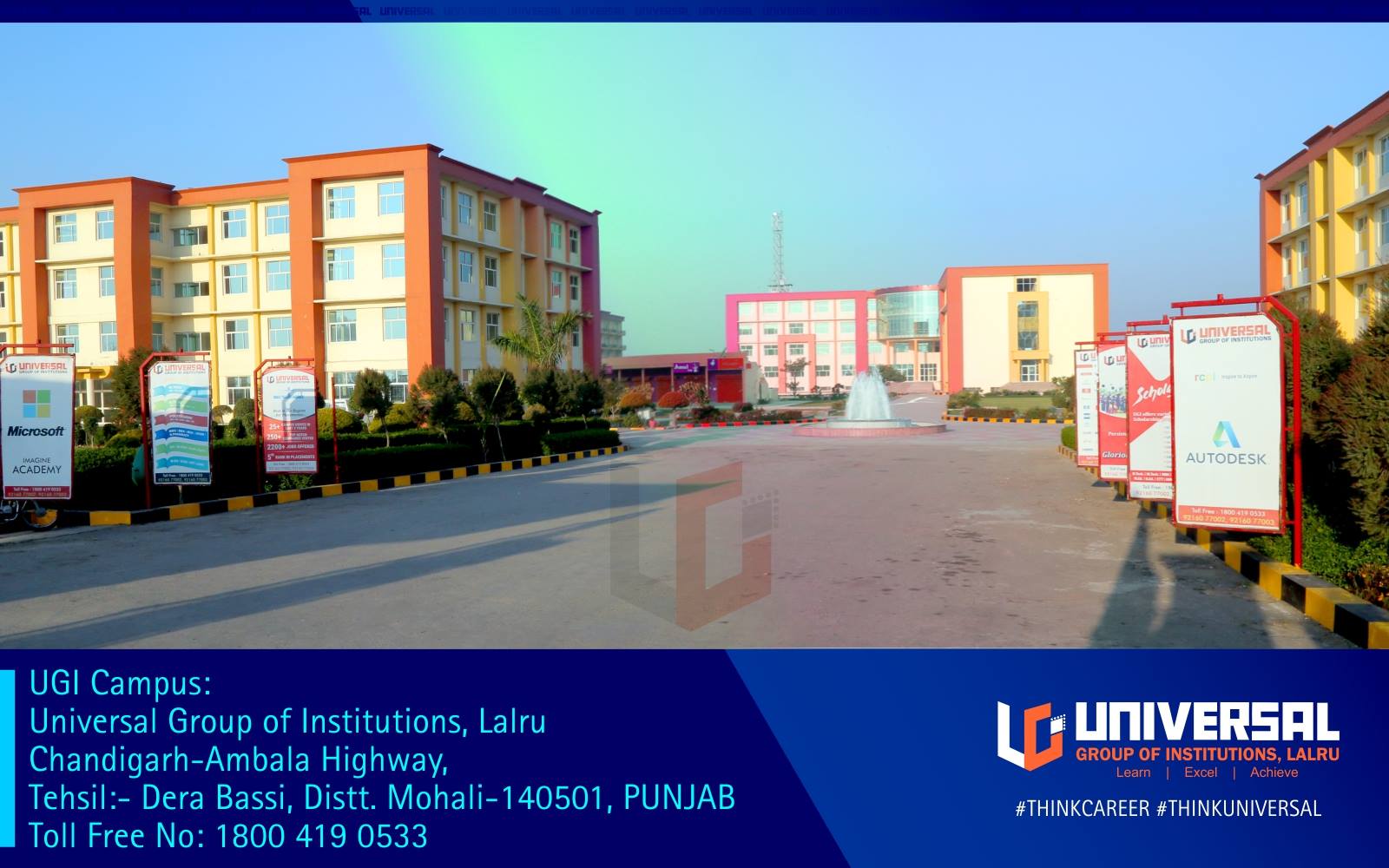 Centre of Excellence
Google
Universal Group of institutions has tie up to provide G- suite Training and agree to participate in case study related to Google apps service usage. It provides educators the tool they need to effectively train students on goggle apps technology.
Microsoft Imagine Academy
Universal Group of Institutions has signed a MoU with Microsoft for Microsoft Imagine Academy program. The program prepares students for the global economy and creates skilled community. It helps to train students on Microsoft technologies.
Godrej
Universal Group of Institutions has tied up with Godrej to open a workshop for B.tech and Diploma (mechanical and Electrical engineering) students. The workshop makes students professionally trained in the field of refrigeration and air conditioning.
Autodesk Design and Engineering Club
UGI established authorized Autodesk Design and Engineering Club. Autodesk, inc. is an American multinational software corporation that focuses on 3D design software for use in the architecture, engineering, construction, manufacturing, media and entertainment industries.
Industry Institute Partnership Cell
IIPC was established with the objective to reduce the gap between industry expectations and academic offering by direct involvement of industry. We believe that quality human resource is the biggest asset of any industry and is the major source of development of any economy.
Entrepreneurship Development Cell
The innovation and Entrepreneurship Development Cell (IEDC) is being promoted to develop institutional mechanism to create entrepreneurial culture and to foster techno-entrepreneurship for generation of wealth and employment. UGI organizes Entrepreneurship Awareness Camps, Entrepreneurship Development Programmes and Skill Development Programmes in the college for the benefit of students.
Tally
Universal Group of Institutions (UGI) has tied up with Tally Solutions Private Limited to help educators professionally trained in Tally. Tally education programs are designed to facilitate learning in a seamless manner and provide course completion Certificate.
Academy of Performing Arts
UGI has established Academy of Performing Arts for providing conducive and stress free study environment to the students. The reviews show that activities like aerobics, dance, music, acting, etc. helps in developing creative thinking skills as well as help in learning the value of disciplines, commitment and work ethics.