Here comes exclusive information from Universal Group of Institutions course wise detail. The admissions for the enrollment in various courses is open hence all the aspirants who are willing to for higher studies can complete their degree through the university. Now let us take a look at the courses which are being offered by them so that you could plan accordingly.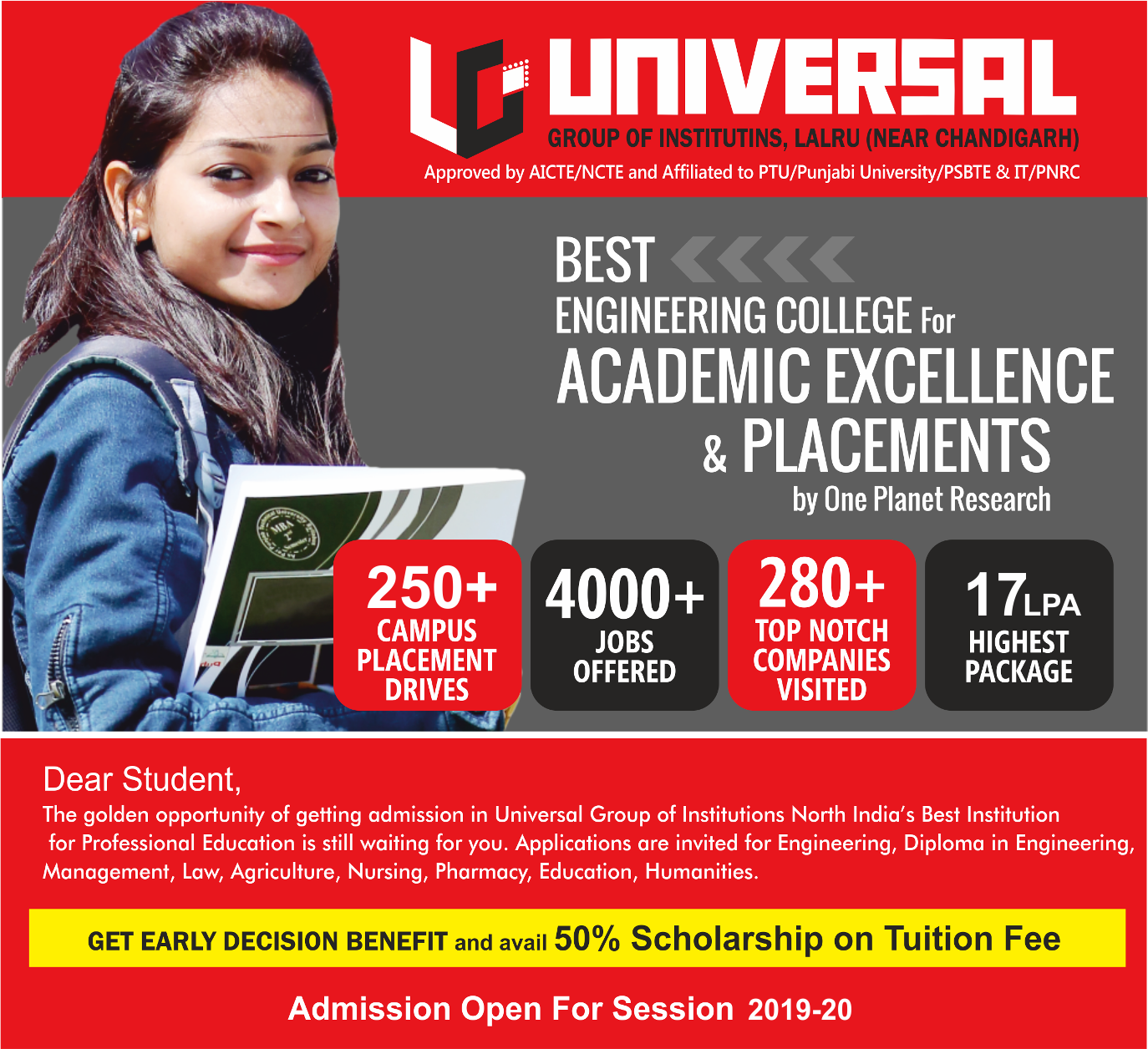 The institution is offering the courses for both Graduates and undergraduates. Hence if you are also looking for either completion of graduation or under-graduation course then get in touch with the consultants of Universal Group of Institutions or fill the details of yourself on the form which is available at the website of the university https://www.ugi.ac.in/ Now we will explain the details about the courses which are being offered under both the programs so that students could make themselves aware and get the seats before it ends.
| | | |
| --- | --- | --- |
| Undergraduate Programs | Post Graduate Programs | Diploma |
| B.tech in Civil Engineering | M.Tech in Civil Engineering | Diploma in Civil Engineering |
| B.tech in Electronics & Communication | M.Tech in Electronics & Communication | Diploma in Electronics & Communication |
| B.tech in Computer Science | M.Tech in Computer Science | Diploma in Computer Science |
| B.tech in Mechanical | M.Tech in Mechanical | Diploma in Mechanical |
| B.tech in Electrical Engineering | MBA | Diploma in Electrical |
| BCA | M.Ed | Diploma in Agriculture |
| BA | | Diploma in Pharmacy |
| LLB | | ETT |
| B. Pharmacy | | GNM |
| B.Com | | ANM |
| B.Sc in Agriculture | | |
| B.Sc in Nursing | | |
| B.Sc in HMTC | | |
| B.Sc in ATHM | | |
| BA, B-Ed | | |
| B.Ed | | |
| BBA | | |
| BA-LLB | | |
Hence these are courses for which the institution is offering seats for the session of 2019-2020. Seats are getting filled with rapid rate hence if you falling in any of the above-mentioned categories then get in touch with the institution. Here we will also highlight one thing which makes UGI as best is their consistent performance in regards to placement. They are best in all the fields of their education like best engineering college in Punjab, best Nursing College in Punjab, and best Diploma College in Punjab and so on. Results are mind-blowing since last many decades and that is why we are getting admissions from all over the country.
Know Your Eligibility for the courses
Let us have a quick discussion about the eligibility criteria on which the process of admission is going on. The university is now offering admissions for various streams as informed above and correspondingly they have mentioned the eligibility criteria as well. Hence if you are going to apply for the admission in any of the respective course then firstly collect the knowledge about the eligibility and match it with yours.
Engineering Stream:
If an aspirant wishes for the admission in the stream of Engineering then he or she must have completed the course of the intermediate from any reputed university or college.
Class 12th should be done with Mathematics and Physics with third subject any of the following: Computer Science, Biology, Chemistry, and Biotechnology.
Aspirants who have completed diploma will be eligible to get direct admission in the 2nd year of the respective course
Eligibility for the course of BCA, B.Com, B.SC, BA-LLB, and Pharmacy
Candidate must have passed class 12th in any stream with 50% minimum marks from any recognized university.
To get enroll in Law courses; the candidate must have at least 45% marks in intermediate.
Eligibility criteria for Post Graduation Courses:
Candidate must have a degree of graduation from recognized board or university
These are some basic criteria which are mentioned in our news flash and to get the detailed information visit our website https://www.ugi.ac.in/ and get all the required details.
Various Steps to Support Candidates:
The university is supporting various campaigns run by the government so that students could get the best education even in case of the money crisis. One example in Bihar Credit Card Scheme, the government is allowing loan facility to those aspirants who are willing to get educated but due to financial circumstances, they are unable to do so. As per the notification of Universal Group of Institution https://www.ugi.ac.in/, bonafide is being provided to such students so that they could also get a chance to prove themselves. If you are also in one of them who are willing to get admission through this mode then get in touch before seats get filled.
Apart from that university is offering scholarships as well which is purely based on the marks achieved in the exam of intermediate. If you are amongst the toppers then you can get the chance. Get complete details from https://www.ugi.ac.in/ and do not hesitate in contacting us.
Here we are flashing the news in order to spread awareness amongst the students who want to get a good platform for their higher studies. Universal Group of Institution is approved by AICTE and comes under the affiliation from Punjab Technical University. The way institution has worked from past 10-11 years is reflected in the feedback of our old and existing students which you can check on the feedback column of Google as well. We always strive hard for the success of students because we always believe that our success is directly proportioning to the achievements of our students and the way we have shown our potential by creating great talents for the nation have made us proud and motivate us for the continuation of same hard work.
Hence guys the admissions for the session of 2019-2020 are on and it will be filled soon. So do not delay if you are looking for the best engineering college in Punjab and Chandigarh. Just start chasing your dream with the support of the experienced staff who are working dedicatedly only for the success of students.
To provide proper assistance, we are having a support channel through which the consultants will solve all your queries and also guide for the best possible solutions in order to show the right direction in your career path. We wish to see you soon on the platform and keep in touch for all the latest updates in regards to admissions in Universal group of Institution. Wishing you all the best and keep browsing.