Universal Group of Institutions is self financed, institute headed by a body of academicians and set up by Universal Educational Society to provide world class quality education to students. It has been conceptualized by Mr. Gurpreet Singh the Chairman, a great visionary.

The institute is duly approved by AICTE, New Delhi, and Punjab Govt. It is affiliated to I.K Gujral Punjab Technical University (PTU), Jalandhar, and Punjab State Board of Technical Education & Industrial Training (PSBTE & IT), Chandigarh. It got ISO quality certification in the very first year of its inception.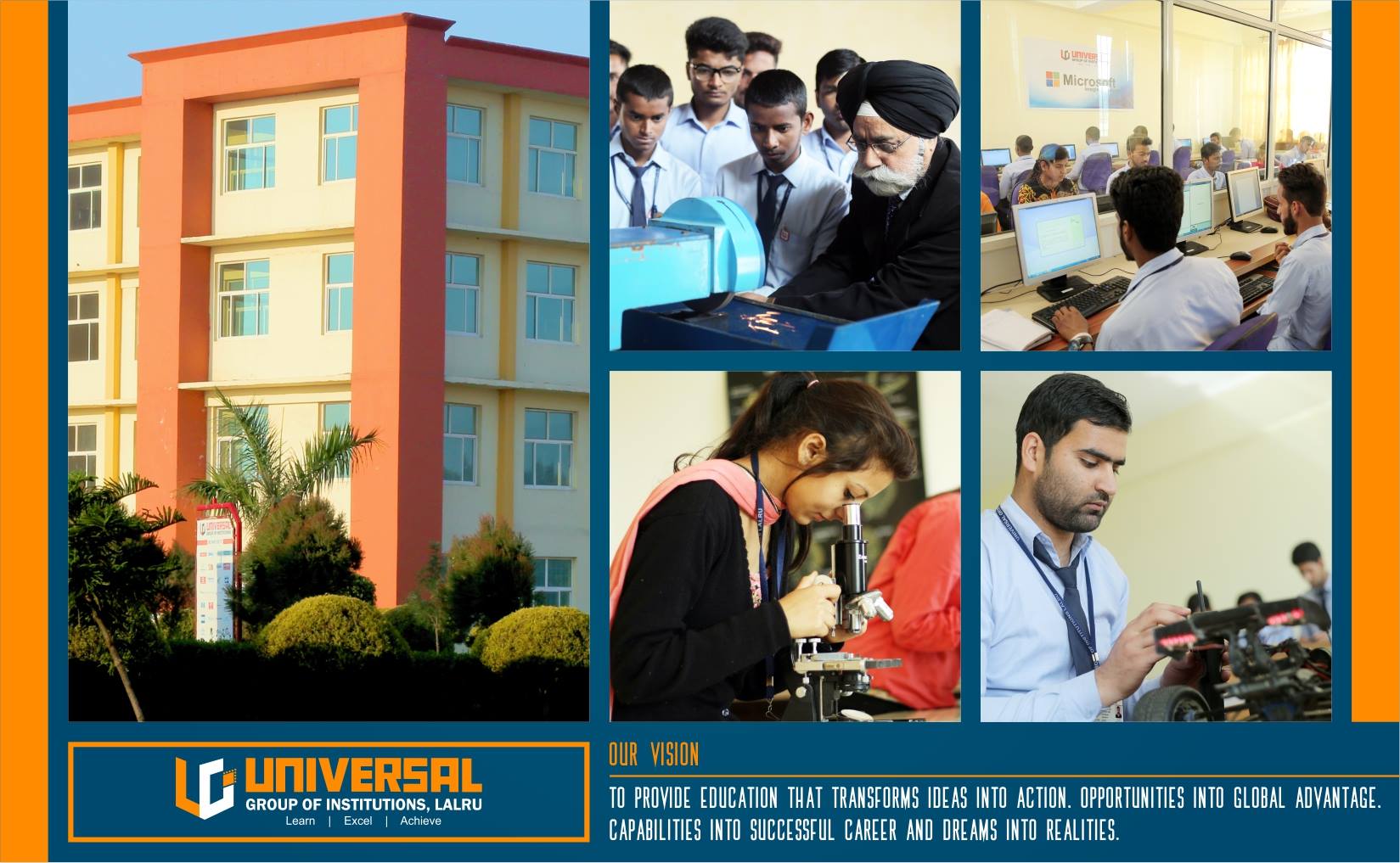 Universal Group of Institutions endeavours to plan several programs that will support education, social development & empowerment to communities in the North Indian region. Towards "Creating a thinking Professional" our efforts are aimed at higher benchmarks and process of refinement. We look forward to our students for their continued support in our journey forward with a vision to create "An institute with a difference". Joining this institute will really prepare students to meet the unforeseen ventures of life. Accomplishing education here will make qualitatively different human being who will be in position to manifest his dreams.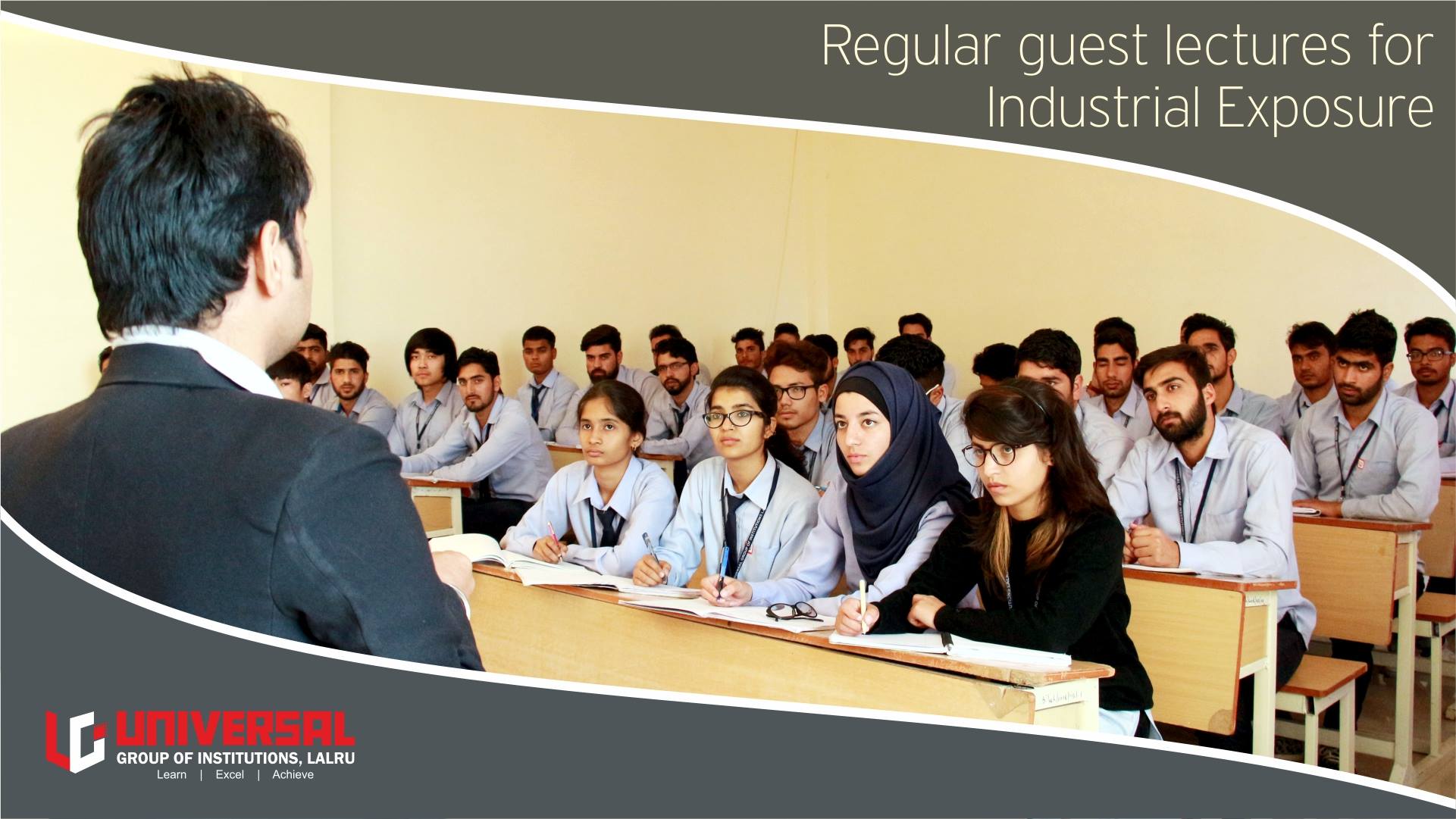 Our Institutions
Vision
"To provide education that transforms ideas into actions, opportunities into global advantage, capabilities into successful career and dreams into realities"
Mission
Universal Group of Institutions focuses to commit itself, for delivering the best possible educational experience and learning opportunities to assert the standard and to fulfill future goals.
 International Tie-Ups
The ultimate aim of an education program is to develop competent manpower able enough to be readily absorbed in the industrial world. Universal Group of Institutions undertakes the responsibility of providing 100% placement assistance to our students. Presently, India is going through a phase of industrial growth and has seen setting up of many small business and rise of the Indian corporations to the global scale. As a result, there has been an increasing demand for quality manpower.
Eminent people from business, industry and professions would be invited on a regular basis to address our students. This would enable our students to be in touch with latest trends in technology and also to interact with personalities with long years of experience and knowledge. Our faculty will also keep in touch with the industries and institutions keen to develop themselves in this field. The Universal Group of Institutions is willing to maintain very close tie-up programs with the industrial and commercial sectors abroad, ascertain their required demand for the technical personnel and motivate our students and parents to accept the placements abroad.
Campus Facilities
Lecture Halls
Institute has ergonomically and acoustically designed lecture halls that reinforce a student-centered style of instruction. The Institute provides adequate number of well designed smart classrooms. The classrooms are equipped with multimedia and audio-visual equipment to facilitate effective learning. They are designed to promote maximum interaction between the faculty and the students.
Communication Laboratory
The institution has a communication skills laboratory equipped with software from Globerna Technologies which provides the students with training through group di s cus s ions , inter v iew s k i l l s , verba l abi l it y, comprehension skills and responding skills as well. Aiming at infusing a flair for better spoken skills & leadership qualities in its students, the college holds sessions to help them fit well in the vacancies available for graduates in various fields. We are also the member of British Library
Conference Room & Seminar Hall
Conference room & Seminar Hall are aesthetically well designed and furnished in a state of the art fashion. Seminar hall is well equipped with audio visual aids such as computer, LCD projector and public address system for conducting seminars/conferences and undertaking discussion oriented activities.
Dispensary
The students are provided with immediate free medical attention in the campus through the services of qualified doctors.
Transportation
Fleet of buses maintained for conveyance from Chandigarh, Panchkula, Mohali, Patiala, Ambala and other important towns.
Hostels
Excellent hostels with the best possible facilities are available for boys and girls separately as per the following details : – Well-furnished rooms – Clean homely environment – Indoor & Outdoor games facilities – Fresh Hygienic Food – Common room for students – MI room has been provided in the hostel.
Library
The Institute has a well equipped library which caters the needs of students and teachers. Besides course related books, the library also stocks with general and technical books. The library also includes large number of national and international periodicals. The library resource center is fully automated and for this we have specialized user-friendly library software. The library has adopted latest technologies like CD, DVD, Multimedia Kits, Bar code Scanners, Text and Graphic Scanners.
Cafeteria & Tuck – Shops
Refreshment joints throughout history have always been the ideal centers all over the world where brilliant minds congregate and great concepts originate. It is also the place where diverse cultures meet and new ways of life flourish. The institute has created well organized spaces for cafeteria and refreshments.
Stationery Shop
To meet the daily needs of books, note books & other stationery, institute has set up a stationery shop in the campus.
Sports & Games
UGI provides indoor and outdoor games facilities to the students for their overall development. Institute also provides opportunities to students to participate in Annual Intra and Inter College Tournaments.