Best Engineering College in Punjab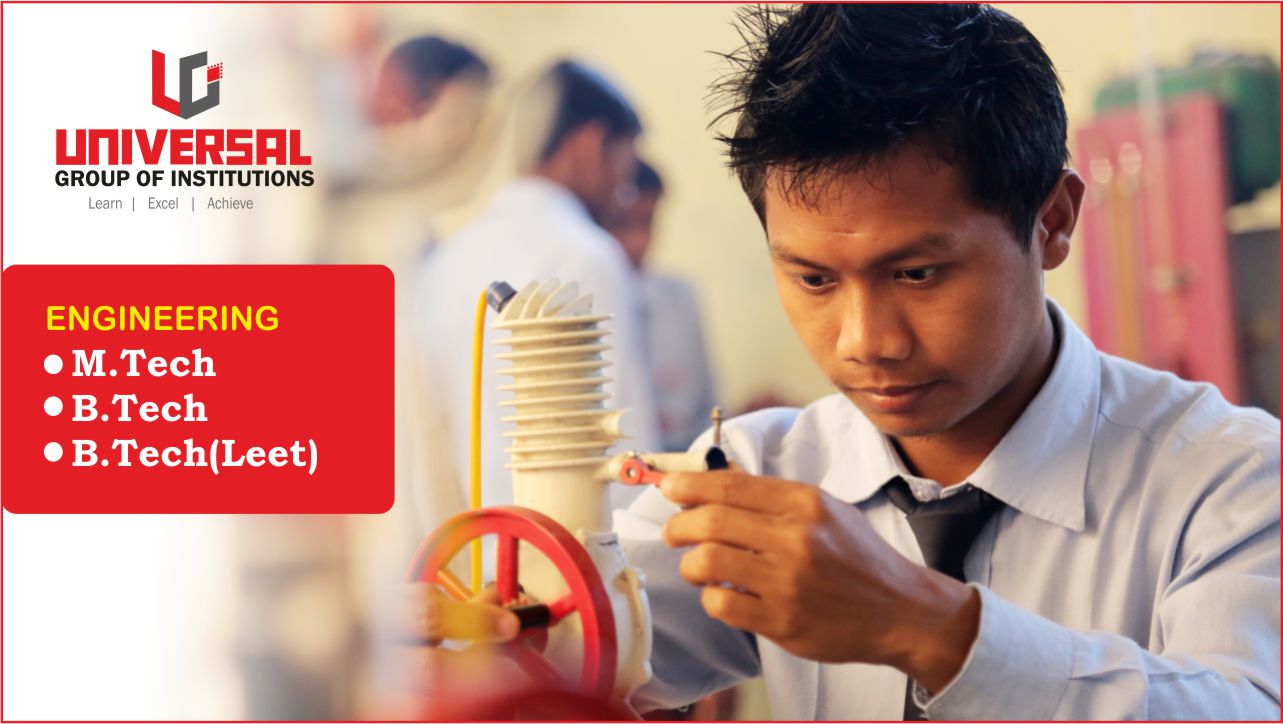 HeyGuys!!! Are you looking for the best engineering college in Punjab? If yes,then you are in the right place. After completion of basic studies, studentsmove towards higher studies and in this era of competition and success,selection of best educational ground matters the most. Hence in this regard,universal group of institutions is the unbeatable companion of the race. Hereall the facilities are being provided in order to make a student fully groomed.
Universal group of institution was founded in the year 2009 with a motto to give a new horizon to the educational world where not only the academic knowledge will be provided but various co-curricular activities will get organized in order to get the best output from an individual. Various courses are organized here like Engineering, Polytechnic, Management, Law, Pharmacy, Nursing, Ayurveda and Humanities. Highly qualified staffs are hired because the institution ensures to provide detailed knowledge on each concept. Hence various levels of filtration are being done during the selection of a lecturer. Due to their effortless work and best training, every year lots of students are getting placed in top MNCs of India.
Achievement is easy but retaining the same is difficult but Universal group of institution is still the best engineering college in Punjab. Even if you are looking for the best engineering college in Chandigarh nothing can be as suited as Universal group of Institutions.
Engineers are the building blocks of the nation and hence it becomes the responsibility of all education providers to create best talents who can serve the nation with new hope of growth and development. Universal group of institution understands and hence by recognizing the mindset of an individual they train those in the respective field of interest like
Courses Offered in Engineering
Above mentioned are the streams of engineering which are being conducted by Universal Group of Institutions. Here they do not only ensure to deliver the content but also work on various activities to check the absorption power of students. These kinds of practices are still making them the best engineering college in Punjab.
Post completion of school, sometimes student gets confused in the selection of courses of institutes. They consult with their friends, seniors, brothers, sisters, teachers etc. Sometimes even they do not get proper guidance and spoil their career by choosing some wrong way. So here it is very important to identify your own skills and area of interest. In this regard, our team runs a consultation program where a student can call and get the proper guidance for their fruitful career. Afterward, all responsibility will be of Universal Group of Institutions to create the best version of you. Hence start organizing yourself and recognizing your area of interest.
As we all are aware that admission for 2019 session will get started in sometime hence it's better to do homework in advance. Universal group of institutions is the best engineering college in Punjab and it can be analyzed by checking out the feedback and placement ratio. If we talk about infrastructure, the institution is located at pollution free zone along with all medical and other facilities. Universal Group of Institutions understands that a healthy mind lives in a healthy body hence they put all precaution in regards to health.
Apart from academics, the institution provides equal opportunities in other activities like sports, events, cultural activities etc. Here a complete opportunity of growth and development is being provided which will not only keep you engaging but also brings the best out of you. Ultra Modern gymnasium is there where one can have the proper exercise for the body; cafeteria is there for proper accommodation of enjoyment and fun. Along with that fully Wi-fi, ATM, Medical etc kind of facilities is being given in order to make your life easier because we know that you are living apart from families and hence facilitation of these services becomes mandatory.
Placement plays an important role in the order of selection of any institution. Here we are talking for the best engineering college in Punjab and MNCs like Google, Infosys, Wipro, LnT etc come here to hire the unique talents at higher packages. So if you are a laborious person and wants to become the part of these kinds of great companies then just go online and apply for admission for the session of 2019 at the website of universal group of institution that is www.ugi.ac.in. We have a support team as well who are there to take all your queries on higher priority. Hence do not lose the opportunity of getting the best engineering college in Punjab. Do not hesitate in contacting us via call or email. We will be more than happy to serve you. Looking to see you at our portal. Happy Browsing!!!