The AICTE – All India Council for Technical Education under the rules of Ministry of Human Resource Development has released the notification (information Brochure) for Prime Minister Special Scholarship Scheme (PMSSS) Jammu Kashmir 2020-21. The Online Registration for Prime Minister Special Scholarship Scheme (PMSSS) 2020-21 Jammu & Kashmir students will start very soon.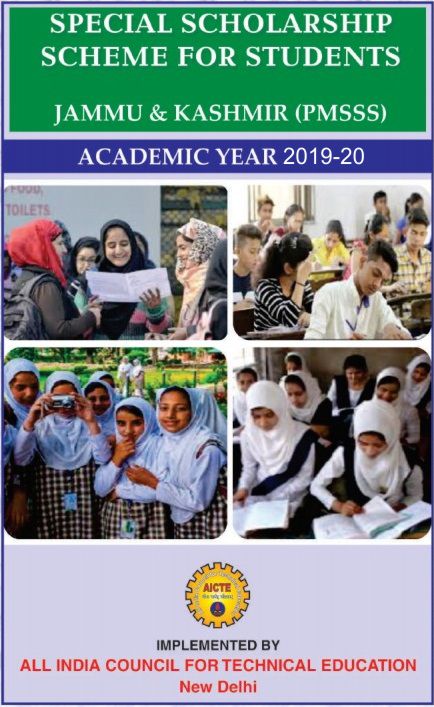 AICTE has released this information on his official website. New students willing to enlist into different courses under the Prime Minister's Special Scholarship Scheme 2020-21 can now see the information brochure by visiting the official website of AICTE.  To get the benefit of this scheme students are required to present the necessary documents.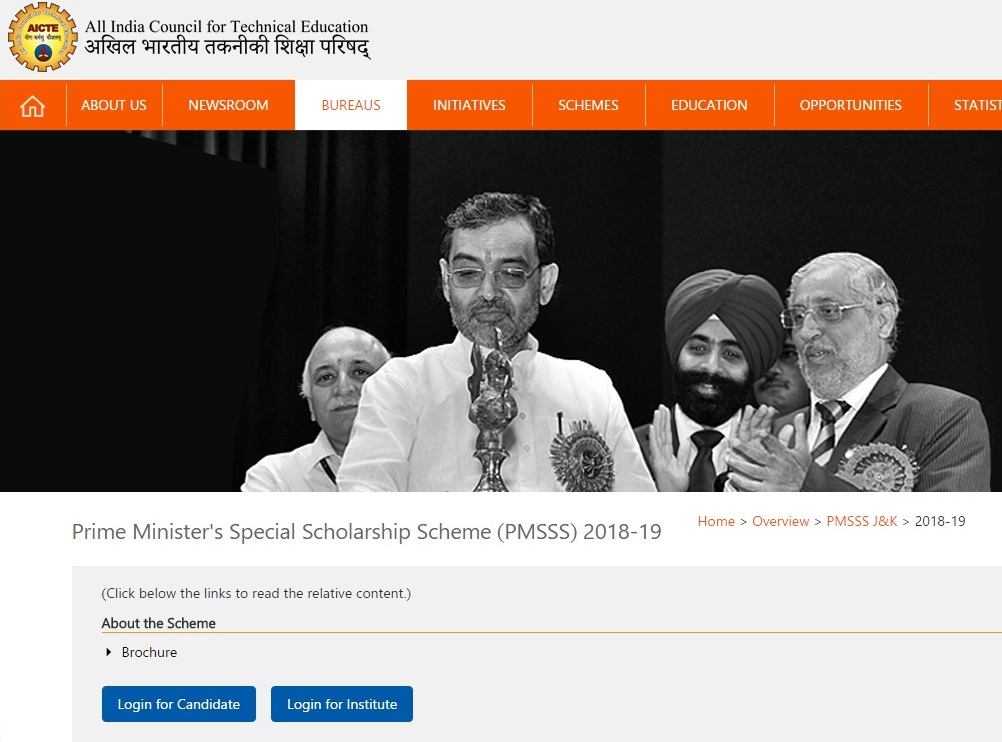 Objectives of Prime Minister Special Scholarship Scheme (PMSSS) Jammu Kashmir 2020-21
Building capacities of the youth of Jammu & Kashmir.
Educating, enabling and empowering them to compete in the normal course.
Enhancing and formulating employment opportunities in Jammu & Kashmir.
Boosting employment potential of students of Jammu & Kashmir.
Making the Scheme student friendly.
Eligibility for Prime Minister Special Scholarship Scheme (PMSSS)
Students having domicile of Jammu & Kashmir.
Passing 10+2 examination from J&K Board or CBSE located in J&K.
Only those willing to study outside the State of J&K.
Whose family Income is Rs. 6.00 Lakh or below per annum.
Fulfilling minimum age and other eligibility criteria as prescribed by the colleges.
Aadhar Card is essential for smooth disbursement scholarship through direct benefit transfer.
Procedure For Prime Minister Special Scholarship Scheme (PMSSS) 2020-21 Jammu Kashmir
Every Student will be required to give preferences / choices of collages.
AICTE will open counselling Centers at Jammu / Srinagar for actual admissions in the institutions identified under the scheme.
Every candidate will have to be present for the Counselling.
Student remaining absent will not be eligible for scholarship in any case.
Allotment of seats will be made through counselling only. No change will be allowed after counselling is over under any circumstances.
Details of scholarship for Academic year 2020-21
| | | |
| --- | --- | --- |
| Stream | Academic  Fee | Number of Scholarship |
| General Degree | Upto Rs 30,000/- | 2070 |
| Professional | Upto Rs 1.25 Lakh | 2830 |
| Medical/BDS | Upto Rs 3.00 Lakh | 100 |
Watch the Video for PMSSS
To give a new scope of development to the youth of Jammu & Kashmir, All India Council of Technical Education (AICTE) under the supervision of Ministry of Human Resource has started a scheme of scholarship which is known as PMSSS that is Prime Minister Special Scholarship Scheme. The student must have the domicile of Jammu and Kashmir in order to avail the scholarship. The government has initiated the step for the youth of Jammu & Kashmir so that the student of the place could nourish their life in a smoother way.
The scholarship scheme was implemented on 19th August 2010 with a motto to increase the scope of employment so that youth living there could get a job in public and private sectors based on their capabilities and eligibility.
A special number has been issued to handle any queries and that is 0120-244-6701.
Every year lots of students get passed out and planned for graduate courses outside Jammu and Kashmir. The government of India provides this scholarship every year with some modifications and improvisations so that maximum benefits could be provided to students. These steps are always being taken by considering the proper growth and development of the student.
Main objectives of the Scheme are as under: –
Evolving guidelines for proper implementation of the scheme to fulfill the objectives.
To Conduct Awareness Workshops about the Scheme.
To Conduct Counseling for admission of candidates to different programs/courses.
Disbursal of Scholarship for the eligible Candidates.
Redress of Grievances of PMSSS Candidates.
Now you must be thinking about what should be the criteria for getting the advantage of PMSSS "Prime Minister Special Scholarship Scheme".
Those candidates who are willing to get the scholarship must have domicile of Jammu and they should have their class 10th and class 12th from any recognized board in Jammu and Kashmir.
The student should be of session 2019-20.
If someone wants admission through lateral entry then their Diploma course must be executed from any recognized institute under Jammu and Kashmir.
Family income of the student, who is going to apply, should be less than 8 lakhs per year.
Advantages of PMSSS (Prime Minister Special Scholarship Scheme)
Complete course fee and maintenance fee paid by the government
Fee directly get deposited in the financial account of the institute which will include all type of fees, like tuition fee, exam fee etc
How to apply for the Pmsss Scholarship
Go to the official website for scholarship.
Register yourself if you are a new user
Fill out all the required details by attaching required documents
Submit the details by clicking on submit button
Hence if you are looking to get all necessary details in regards to the scholarship of Jammu & Kashmir then this article will help you out in all regards. Stay connected to get all regular updates and do not hesitate to contact in case of any query.
North Western Regional Office For PMSSS :
Plot 1A, Dakshin Marg ,
Sector 36-A, Chandigarh, 160036.
Phone – 0172-2613326, 0172-2661201.
For PMSSS Registration and
Technical related query: jkadmission2019@aicte-india.org or helpdesk1@aicte-india.org
PMSSS 2019-2020 HELPLINE NUMBER for applicants:
0120-2446701 ( Call timings Between 9.30 am to 5.30 pm )
(Working days- Monday to Saturday)