Which are the bestengineering fields?While taking a decision for our career, wealways analyze all the scenarios and calculate all the positives and negatives.It is a human tendency because no one wants to compromise below less than thebest, which is quite natural and obvious, especially when you are dealing withyour career. Universal group of institutions is offering all the courses ofgraduation and post-graduation, in which engineering is one. If you arespecifically searching for the best branch or field then read out the content.Here we will summarize the significance of all the branches and depending uponthe skills you can choose the best one for you because engineering is notlimited to any specific branch, India is developing with a rapid rate and it ispossible by the contribution of all the fields of engineering. Hence let usfirst understand the significance of each branch and then will try to find theconclusion.
Universal Group of Institutions is offeringthe course of Engineering for graduation and post-graduation. Below mentionedfields are being taught here. All have their own identity and future scopes, solet us analyze that:
Computer Science and Engineering:
The branch revolves around the study of science related to the world of the computer. Means here one will get a chance to learn about the software which is being used in different machines and along with that there will be the study of the hardware part of computers as well. Software is developing rapidly and today almost 90% of the paperwork is now channelized through digital media which quick and effective. We all are communicating with our loved ones, through chatting, audio calls, video calls, etc, computer science and engineering have huge contribution it. Hence if you love programming or willing to establish your career in the field then you can opt for admission in this stream through the website of the universal group of institutions.
Electronics and Communication:
This field of engineering has given fast track communication and makes lots of things possible. Initially, data transfer was a problem and now within nanoseconds, we can send data anywhere in the world through WAN (Wide Area Network). Smartphones are getting launched with new features which truly explains the advancement in the field hence from here you one can understand the significance of Electronics and Communication. Universal Group of Institution is offering the course and well-qualified experts are hired for grooming the talents.
Study of the flow of current, power, transformer, meters, etc are being taught under the stream of electrical engineering. Universal Group of Institution has well-equipped labs for the practical sessions so that students could match their skills with the industries and after completion of the course, they should be able to get the best offers in placements.
This is the evergreen branch and students will get a chance to learn about the machines which are being used in industries for the creation of products, schemas, materials, etc. Advanced cars are being launched with new safety features and people are running behind the same. Within seconds, now you could be able to cover miles of distance and it is the gift of mechanical field hence all the aspirants who keep their interest in such studies can apply for the course from Universal Group of Institutions
The most demanding field of the era, nowadays lots of constructions are going on for the betterment of transportation and traveling. Roads and buildings are being made to make the city or country smart. We all love to go Malls for time-pass and it is one of the best creations of Civil Engineering. New technologies are being incorporated so that people could get a happy and healthy environment to live. Universal Group of institutions in offering civil engineering and here you will be able to get practical training as well.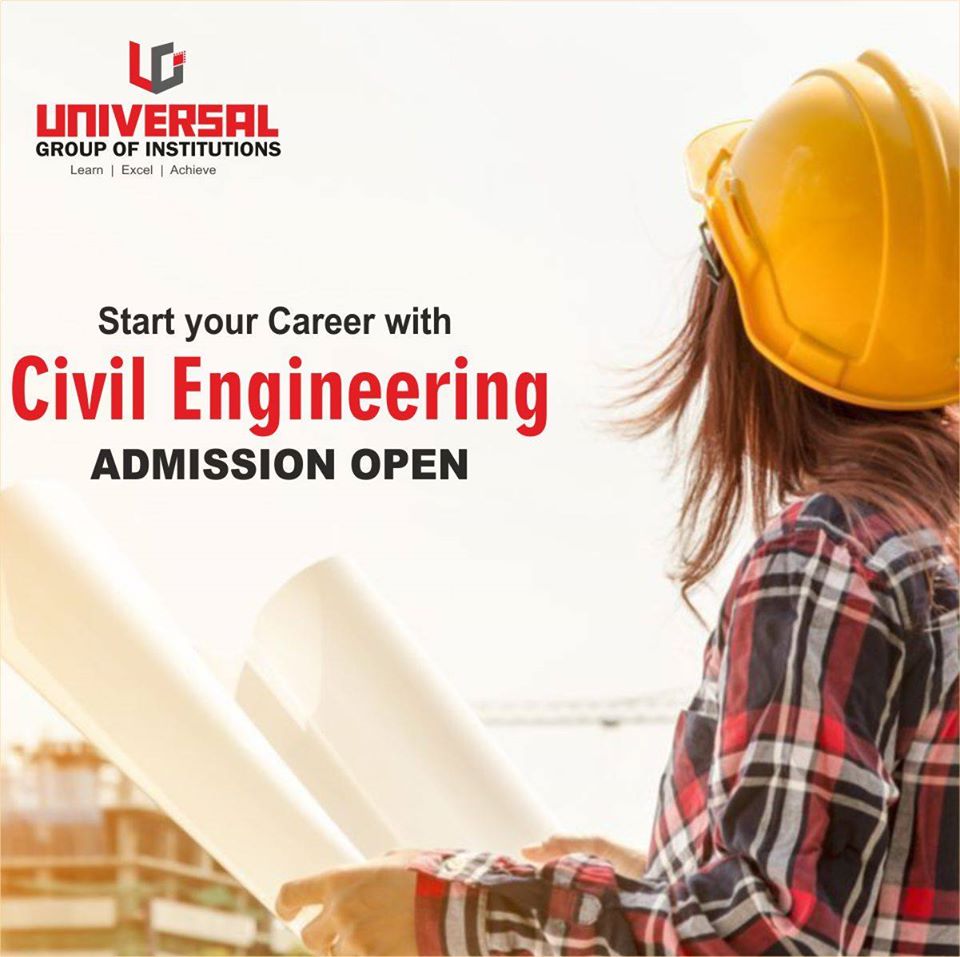 So guys, hope you have read about the significance and advantages of all the branches as mentioned above. If you are still looking for "which is the best engineering field?" then check out the skills and interest of yours. Based on that finalized the branch and then check out which college should be good for that particular branch. Universal Group of institutions has achieved milestones in all the fields by providing consistent placements to the students of the all year since the time of foundation. If you are also dreaming to become an engineer based on your skills, then check out the eligibility criteria and fill the form for admissions. Our support channel will explain all the processes in details. Do not wait for more!!! Get the best and start the new phase. We wish you all the best for the future. Keep in touch.
Bihar student credit card Scheme
PLACEMENT WISE TOP 10 ENGINEERING COLLEGES IN PUNJAB CHANDIGARH, North India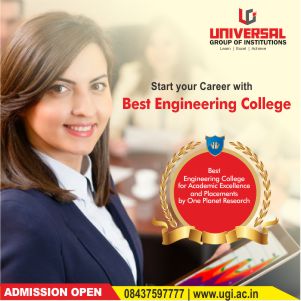 PLACEMENT WISE TOP 10 ENGINEERING COLLEGES IN Punjab, CHANDIGARH North India, The future of an engineer depends upon his skills and the college which he has chosen as a career guide. Here we will specifically discuss for the region of Punjab and Chandigarh. Students always look to get placement wise top 10 B.tech colleges in Chandigarh. But the major concern is whether you are in the right process of selection or not. A student who is looking for placement wise top 10 B.tech colleges in Chandigarh has tobe smart during making any decision. Sometimes attractions are much more than the realities. Hence we will guide you to avoid these kinds of stuff and just focus on the real facts of data that assures you the best. In this regard, we are presenting you with the list of placement wise top 10 B.tech colleges in Punjab so that you could judge from yourself.
1. Universal Group of Institutions
The Institution was established in the year 2009 with a clean motto to deliver best results to society. Here we understand that engineers are the building blocks of the nation hence they need to guided and educated in a proper way. At Universal group of institutions, you will get a chance to groom yourself in a personal and professional way. Well qualifies staffs are working here who are having experience of more than a decade. Properly designed campus with Wi-Fi facility is available so that student could be in contact with the internet and get all required information instantly. Well maintained and equipped labs are there through which student will learn the practical concepts of respective subjects with advanced instruments.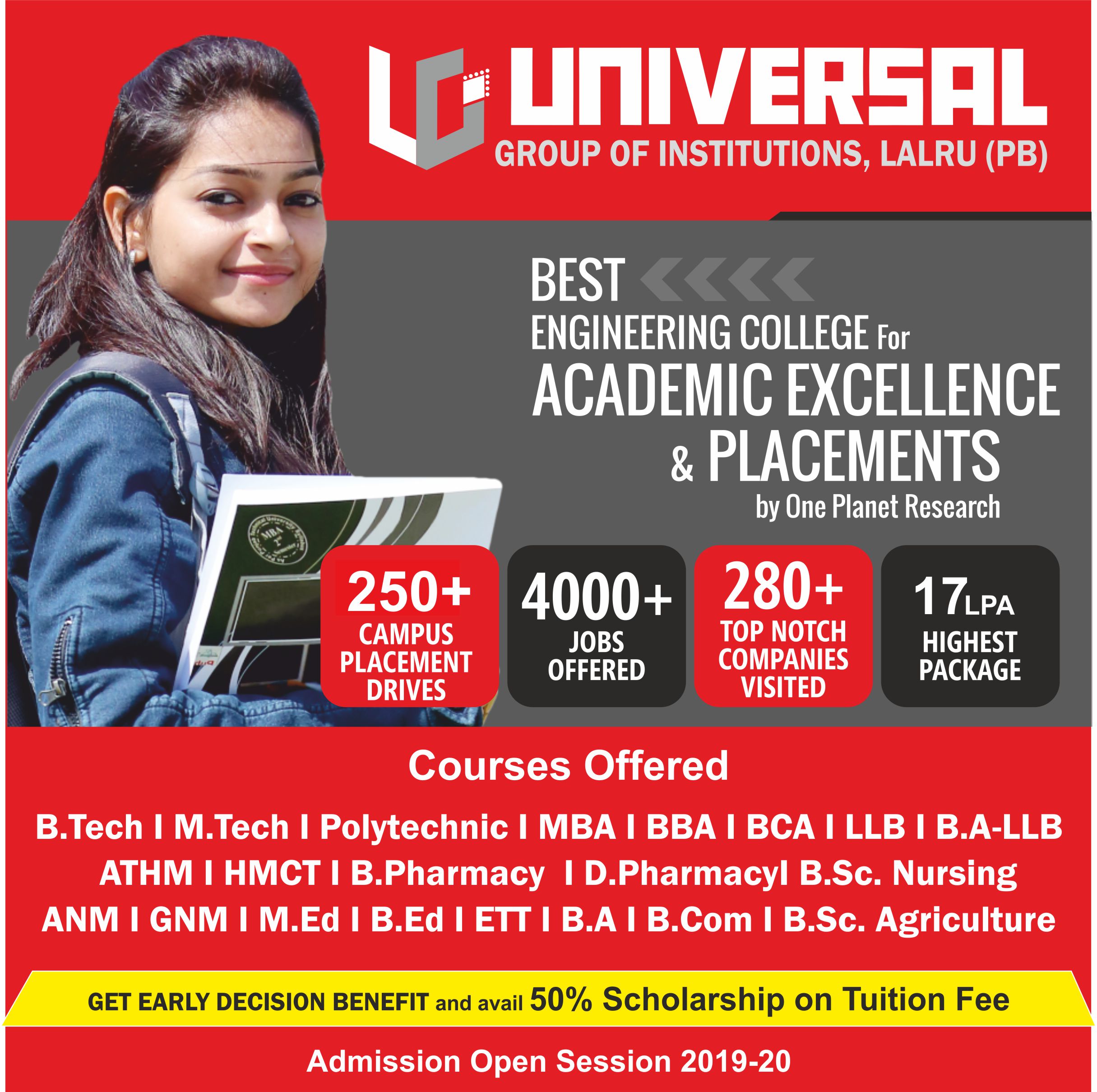 Best engineering college punjab, chandigarh, north india
Best management college punjab, chandigarh, north india
Best law college in chandigarh punjab north india
Best nursing college chandigarh punjab north india
best polytechnic college chandigarh punjab north india
best pharmacy college chandigarh punjab north india
best business college chandigarh punjab north india
civil engineering college chandigarh punjab

polytechnic college in chandigarh

The institution is located at Lalru near Chandigarh with best transportation facility. Complete medical facilities are also available. Hence if you are looking for placement wise top 10 B.tech colleges in Chandigarh then Universal Group of Institutions could be an option for you.
2. University Institute of Chemical Engineering & Technology
The university was formed around the year 1958 under the affiliation of Punjab University. Various Engineering courses are being offered here under the guidance of experts. Placement wise this college has made the future of lots of individuals hence if you are having a plan to make the career in the field of chemical engineering then just check out all the details at the web portal of the institution.
3. University Institute of Engineering & Technology
In 2002, Punjab University has given affiliation to University Institute of Engineering and Technology. With their huge effort and dynamic performance n providing placements they are listed in placement wise top 10 B.tech colleges in Chandigarh
4. Chandigarh Engineering College, Mohali
Chandigarh Engineering college does not need any introduction. It is a self-explanatory results and students want to join this college in order to share their professional career. This college is affiliated by Punjab Technical University that is PTU and they are the best placement wise top 10 B.tech colleges in Chandigarh
5. Chitkara University, Chandigarh
Chitkara University was formed in the year 2002 as a Deemed University. The kind of results they have given is purely measurable by seeing their progress in terms of strength of students. They organize tests in order to enroll students. Hence if you are willing to get placement wise top 10 B.tech colleges in Chandigarh then just check out the dates and details at the Website of Chitkara University
6. Aryans College of Engineering, Chandigarh
Aryans College of Engineering is the best placement wise top 10 B.tech colleges in Chandigarh hence this can also be an option to explore. It was formed in the year 2009 by getting affiliation from PTU that is Punjab Technical University.
7. Chandigarh University
A university which can be called as "Rising University" is none other than Chandigarh University. In the shortest frame of time, the University has made its place by giving the enormous result. So students can also check Chandigarh University as an option for their career.
8. PEC University of Technology, Chandigarh
To get admission in PEC is a dream from decades. Students approach for this University from all India and you need to fulfill their criteria in order to get the admission. It was founded in the year 1921 and affiliated to Punjab University. Their outstanding results are still making their existence in the list of placement wise top 10 B.tech colleges in Chandigarh
9. Sachdeva Engineering College for Girls, Chandigarh
This engineering college is especially founded for girls in the year 2008. So girls who want placement wise top 10 B.tech colleges in Chandigarh can explore the options here.
10. Indo Global College of Engineering, Mohali
Indo Global College of Engineering is located in Mohali and is affiliated by Punjab Technical University. It is one of the reputed colleges in Punjab, which was founded in the year 2003. Hence please check out the website to get the details for your engineering career

We hope this content will help you to get placement wise top 10 B.tech colleges in Chandigarh or Punjab. Do not hesitate to reach us in case of any query. We love to hear from you.
How to Choose the Right Engineering College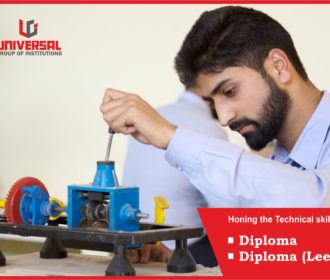 The session of board examinations are going on and lots of students are in tension for their higher studies. Those who are aiming to become an Engineer are still waiting to find a way and looking for the answer to the question which is roaming in their minds and that is "how to choose the right engineering college"? Their concern is very genuine because now their whole life is going to depend on this choice only. So this article is being written to solve all your queries, and with the calm mind just follow the instructions which are being provided.

We at Universal Group of Institution ensure proper growth and development of the student by taking out their best possible outcome but one-sided this decision could not be made; we need you to be focused and share your best area of interests with us.

Now let's begin the steps for "how to choose the right engineering college"?. Before making any decision, think about the choice of your engineering stream. For example: If you are having interests in Computers and loves be the part of Information Technology then you can opt for Computer Science Engineering, or if you are want to associate yourself with the Architecture world then Civil Engineering will be the best for you. Hence in this way best on your choices, you can decide on the best-suited engineering stream. Other engineering streams are like Mechanical Engineering which deals with machines, Electrical Engineering which deals with electricity & current flow, and Electronic & communication engineering which deal with communication world of mobile. Hence based on your state of mind and area of interest you need to choose stream which suits you best.

After choosing the engineering stream, now check out the list of best engineering colleges and start categorizing them based on your choice of stream. Checklists will be like:
What kind of placement was provided in last sessions?
Which companies had visited in the last session?
What were the strengths of that particular stream in previous sessions?
Hence after collecting answers, you will get a filtered list of colleges based on your selection. Sometimes, you must see any college on the top list but it may possible that they have not performed that well in your stream hence analysis based on selected stream is mandatory. Hence beware of this.

Post that, list down your criteria and priorities in regards to college. Check the environment, locality, facilities etc so that you could have a sense of idea about the comfort zone of yours. Also, check out the fee structure which includes all costs like college, hostel, and transportation. Universal group of institution believes that a healthy environment and peace of mind are mandatory for study, so we guide you to check out infrastructure and compare it with your priorities. If all suited then next step can be taken.

After completion of general inquiries check out the minimum score needed by the college or universities and compare with yours. Make sure you could get admission in the college of your choice hence you must fulfill the criteria of scores required. This should be in your mind from very initial stages so that by doing hard work you can achieve a good score in intermediate and get a desirable college.

Post completion of marks comparison analysis, check out whether you are eligible for scholarships or not, lots of institutions provide scholarships to talented students hence if you think you can get a scholarship based on your marks and other criteria then do check that as well. Scholarships are being given based on talent and IQ level of student and indirectly students get financial relief on large scale. So do your best in studies and try to achieve scholarships

Hence after following all the above steps, one can easily get the right engineering colleges which will enlighten their career by grooming in each field. Universal group of the institution is one of the best engineering colleges in Punjab Chandigarh and getting admissions from all over India and the world. Hence if you are also searching: How to get the right engineering college then follow the guidelines and if Universal group institution fulfills your demands then do not hesitate to call and get all the required information. We wish you good luck for the upcoming future. We will happy to serve you. Keep connected for all latest updates
Best Engineering College in Punjab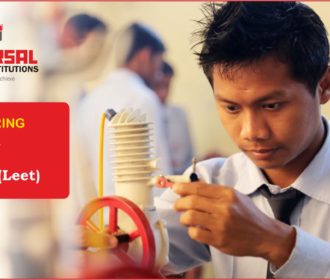 HeyGuys!!! Are you looking for the best engineering college in Punjab? If yes,then you are in the right place. After completion of basic studies, studentsmove towards higher studies and in this era of competition and success,selection of best educational ground matters the most. Hence in this regard,universal group of institutions is the unbeatable companion of the race. Hereall the facilities are being provided in order to make a student fully groomed.
Universal group of institution was founded in the year 2009 with a motto to give a new horizon to the educational world where not only the academic knowledge will be provided but various co-curricular activities will get organized in order to get the best output from an individual. Various courses are organized here like Engineering, Polytechnic, Management, Law, Pharmacy, Nursing, Ayurveda and Humanities. Highly qualified staffs are hired because the institution ensures to provide detailed knowledge on each concept. Hence various levels of filtration are being done during the selection of a lecturer. Due to their effortless work and best training, every year lots of students are getting placed in top MNCs of India.

Achievement is easy but retaining the same is difficult but Universal group of institution is still the best engineering college in Punjab. Even if you are looking for the best engineering college in Chandigarh nothing can be as suited as Universal group of Institutions.

Engineers are the building blocks of the nation and hence it becomes the responsibility of all education providers to create best talents who can serve the nation with new hope of growth and development. Universal group of institution understands and hence by recognizing the mindset of an individual they train those in the respective field of interest like
Courses Offered in Engineering
Above mentioned are the streams of engineering which are being conducted by Universal Group of Institutions. Here they do not only ensure to deliver the content but also work on various activities to check the absorption power of students. These kinds of practices are still making them the best engineering college in Punjab.

Post completion of school, sometimes student gets confused in the selection of courses of institutes. They consult with their friends, seniors, brothers, sisters, teachers etc. Sometimes even they do not get proper guidance and spoil their career by choosing some wrong way. So here it is very important to identify your own skills and area of interest. In this regard, our team runs a consultation program where a student can call and get the proper guidance for their fruitful career. Afterward, all responsibility will be of Universal Group of Institutions to create the best version of you. Hence start organizing yourself and recognizing your area of interest.

As we all are aware that admission for 2019 session will get started in sometime hence it's better to do homework in advance. Universal group of institutions is the best engineering college in Punjab and it can be analyzed by checking out the feedback and placement ratio. If we talk about infrastructure, the institution is located at pollution free zone along with all medical and other facilities. Universal Group of Institutions understands that a healthy mind lives in a healthy body hence they put all precaution in regards to health.

Apart from academics, the institution provides equal opportunities in other activities like sports, events, cultural activities etc. Here a complete opportunity of growth and development is being provided which will not only keep you engaging but also brings the best out of you. Ultra Modern gymnasium is there where one can have the proper exercise for the body; cafeteria is there for proper accommodation of enjoyment and fun. Along with that fully Wi-fi, ATM, Medical etc kind of facilities is being given in order to make your life easier because we know that you are living apart from families and hence facilitation of these services becomes mandatory.

Placement plays an important role in the order of selection of any institution. Here we are talking for the best engineering college in Punjab and MNCs like Google, Infosys, Wipro, LnT etc come here to hire the unique talents at higher packages. So if you are a laborious person and wants to become the part of these kinds of great companies then just go online and apply for admission for the session of 2019 at the website of universal group of institution that is www.ugi.ac.in. We have a support team as well who are there to take all your queries on higher priority. Hence do not lose the opportunity of getting the best engineering college in Punjab. Do not hesitate in contacting us via call or email. We will be more than happy to serve you. Looking to see you at our portal. Happy Browsing!!!