Electrical engineering is one of the most demanding and diverse field of engineering disciplines.  Electrical engineering includes the study of electricity, electromagnetism and electronics for the improvement and maintenance of electrical devices for example Broadcast & Communication Systems, Electric Grids, Electric Motors, Electrical Distribution Systems, Medical Devices, Navigation Systems, and Power Generation Systems while remembering the Economic Feasibility, Safety, Sustainability and Quality of products.

The Department of Electrical Engineering at Universal Group of Institutions has developed with time and it is one of the best electrical engineering colleges in Punjab. It is an AICTE (All India Council for Technical Education) approved college and is affiliated to PTU (Punjab Technical University). The educational programs provide a solid foundation to the students of Electrical Engineering. The college has modern laboratory for students where the students can test electrical engineering ideas.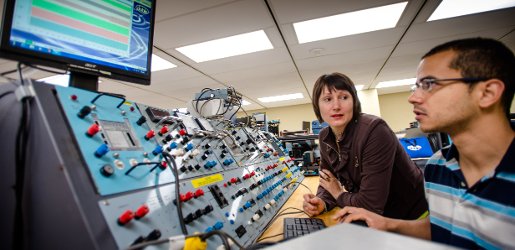 The branch of Electrical Engineering offers program which have high notoriety in the Punjab and Chandigarh. The department has a team of dedicated and highly experienced staff known for providing quality education. In Universal Institute of Engineering & Technology, the branch of Electrical Engineering elevates the students to give profundity information of the subject. The educational programs have been intended to elevate the students to be proficient Electrical Engineers.  . The department has well equipped laboratory along with qualified, competent and motivated faculty and staff. Thus teaching learning process is a pleasure here.
Laboratories :
Electrical Workshop
Electrical Engineering Design and Drawing
Electrical Measurements and Instruments
Electronics and Microprocessors
Fundamentals of Electrical Engineering
P.C. Maintenance and Repair Digital
Career
Electrical Engineers are much popular in India. In the current years, from organizations to house electricity is needed everywhere. So, there is a huge demand of electrical engineer.  A engineers may work as:-
Acoustic Test Engineer
Automation and Process Technologies Engineer
CAD and Product Development Engineer
Computer Modeling Engineer
Electric Machine Design Engineer
Electrical Control Systems Engineer
Embedded Systems Engineer
Magnetic Recording Engineer
Telecommunications or Substation Field Engineer