UCACS celebrated National Science Day on 26th Feb. 2015.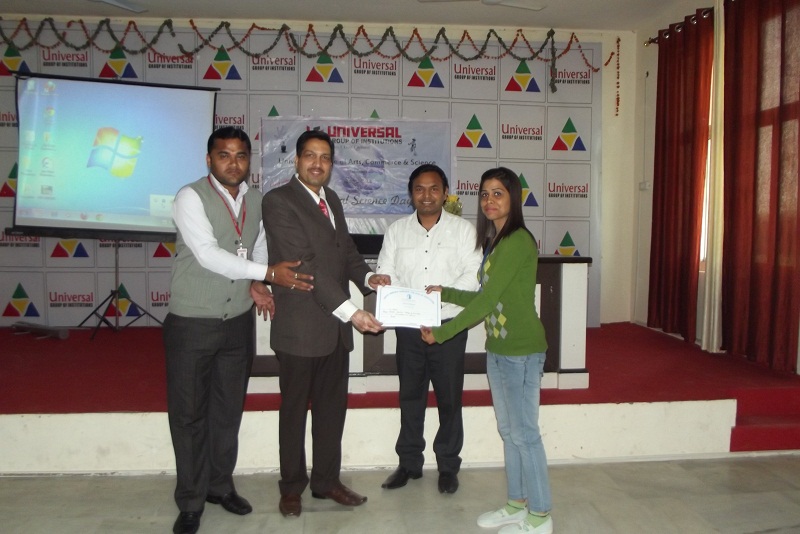 26-02-2015
UNIVERSAL COLLEGE OF ARTS COMMERCE & SCIENCE, LALRU
NATIONAL SCIENCE DAY CELEBRATION IN UCACS
National Science Day is celebrated in UCACS on February 26, 2015. During first part of the event, an Inter college poster making competition was conducted. About twenty students participated in the competition and the posters made by the students were displayed in the Seminar Hall. The competition was judged by panel of three members. The best students were awarded certificates & gifts by the head of the institution, Dr. L.K. Attri.
During the seminar, an inspiring speech on National Science Day was delivered by Dr. S.K. Kansal (Professor) Panjab University, Chandigarh.
Herein, Dr. Kansal has aware the audience about the water crisis and associated problems with it. He was showed to stress to save the water. For the purpose, he cites the routine exercises which can be helpful to overcome the water crisis and save water to pollute. Dr. Attri concluded the session. At the end, Dr. Kansal handover prizes to winners of poster making competition. The long day was celebration at 4:00 PM. In the end, vote of thanks had been delivered by Mr. Mohit Kumar.