App. Sci. Deptt. of UGI organised a Competition on 12th March 2015.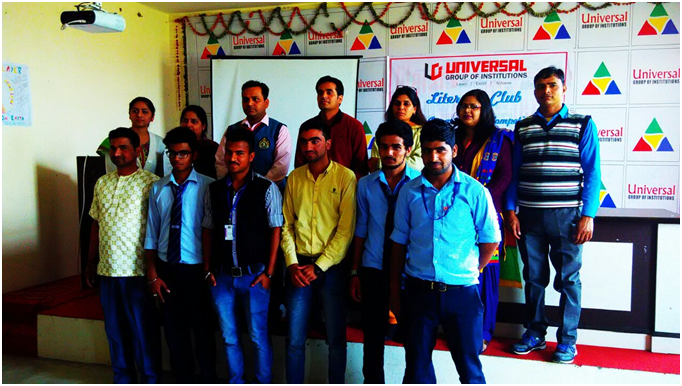 12-03-2015
POETRY RECITATION AND SPEECH COMPETITIONS HELD AT UIET
The Literary club of Applied Science Department of Universal Institute of Engineering and Technology, Ballopur organized Creative Essay Writing, Poetry Recitation and Speech competitions at Seminar Hall on 12th Mar, 2015.
Dr. Gurpreet Singh, Chairman of Universal Group of Institutions was the chief guest. Dr. Rachit Garg, Director of Universal Institute of Engineering and Technology, Mr. Vikas Sharma, HOD-Applied science along with HOD's of other departments and other faculty members were also present there. Students of ECE, EE, MBA, CE, ME, CSE and applied departments participated in it. Students recited beautiful poems as poetry is just another way to express one's thoughtfulness and other desires and letting the rest of the world be aware of the same. Essay writing and speech competitions also gave the opportunity to the students to express their thoughts freely. Students participated in it with enthusiasm. Winners of poetry recitation competitions are Abbas from ECE Deptt., Sumit from App. Deptt, and Winners of creative essay writing competitions are Junaid Nisar and Mohammad Junaid from Applied Science Deptt. and speech areNishant and Rakesh Kumar from Applied Science Deptt. At last, students were awarded. These kinds of competitions help in enhancing the student's all round personality.