UGI Organised a Entrepreneurship Orientation Program by NSIC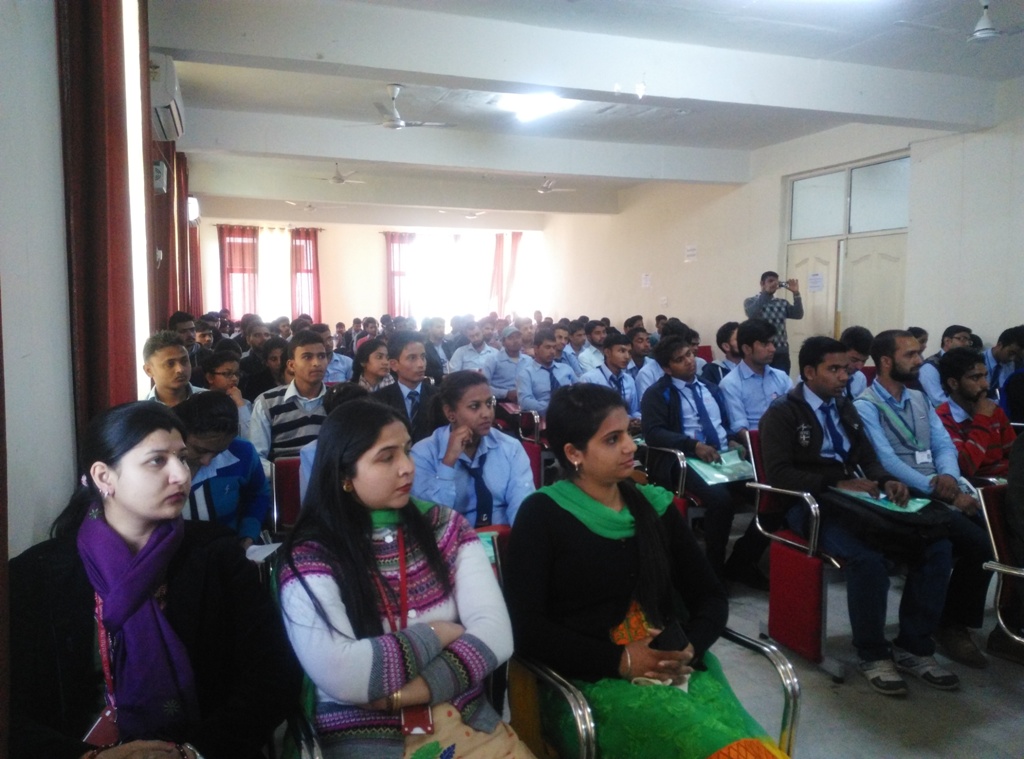 23-02-2016
Bringing alive the entrepreneurial spirit of students, Placements Cell of Universal Group of Institutions, Lalru invited experts from the National Small Industries Corporation Ltd (NSIC) to the UGI campus on 23rd Feb.2016, Tuesday to guide final-year students who want to set up their own ventures. 250 final-year students, who attended the seminar conducted by the NSIC as part of its Entrepreneurship Orientation Programme, were provided access to NSIC facilities for new start-ups, like finance, technical guidance, financial consultancy, networking/marketing support and legal advice.

In this occasion Chairman Dr. Gurpreet Singh, delivered the welcome address in his speech. He emphasized that the youth community should come forward for taking the risk of entrepreneurship. This will lead to increase in employment opportunity in our nation. He also insisted that student community should develop entrepreneurship skills while they are pursuing education at the college. This kind of motivational and inspirational entrepreneurship program will reduce the rate of poverty in our nation.

Mr. Rajesh Kumar, Dy. General Manager, NSIC inaugurated the entrepreneurship orientation program and delivered the inaugural and key note address. In his address he raised the question among the students "Why student should depend upon industry to provide an employment?" Instead they shall find their own employment through entrepreneurship. He emphasized that entrepreneurship begins with the intension to provide Employment for others. He highlighted that NSIC plays a great role in developing such intension among the Indian youth. Also NSIC provides the appropriate skill development and advices for nurturing the entrepreneurship. He also clarified the delegates about selecting the resources required for starting any business. Finally he ended up with highlighting the government schemes available to the young entrepreneurs and also the ways through which they can avail those opportunities to run a business successfully. He also emphasized on the financial arrangements to start a new venture. Campus Director Dr. Baljeet Kapoor said in his speech that interest on entrepreneurship is a right path way to get our nation into super power. Student community should not only concentrate on employability skill but also concentrate on entrepreneurship skill, this will increase their confidence.

Ms. Shweta Sharma, Dean- Planning & Admin of UGI, stressed about the role of small and medium enterprises growth of Indian economy. So, youth community should concentrate on SMEs investment. There are lots of opportunities in SMEs in the field of tourism, software, food, textiles and horticulture industries. She emphasized that the student community should make use of the opportunities with the help of NSIC to achieve full employment. In the end Asst. TPO Mr. Ravi Pratap Singh gave a vote of thanks to the executives who came from NSIC in order to deliver a workshop on Entrepreneurship Orientation Program.