UGI organized one day training on human Rights sponsored by NHRC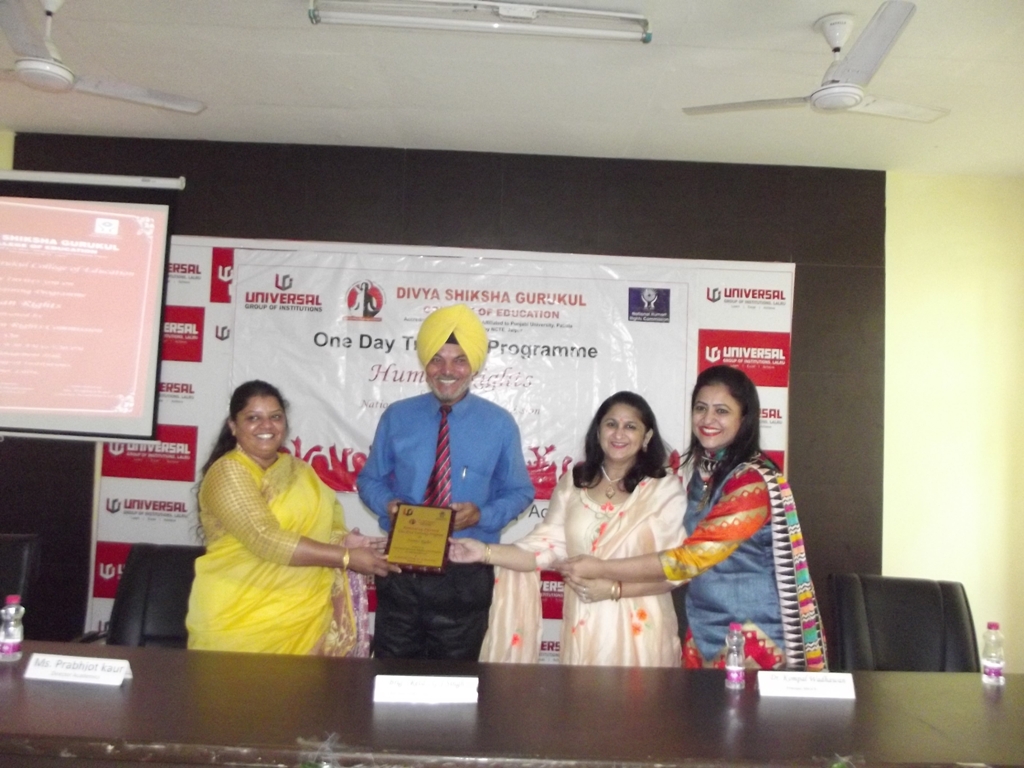 27-09-2017
Divya Shiksha Gurukul College of Education organized one day training on human Rights sponsored by NHRC. The training program was inaugurated in traditional and pious manner by lamp lighting and offering prayers to goddess Saraswati ji by Hon'ble Chairman Dr. Gurpreet Singh. In his welcome address Dr.Gurpreet singh threw light on the social evils and how they are responsible for the violation of Human Rights.125 students and 25 faculty members of different institution participated in the training program.
The training programme was divided broadly into four sessions. The first half is the introduction of the training programme and the "Human rights". The second and third session went into the protection of human Rights and rights of women and children, and the fourth session was a right of Bounded labour and child labour and SC/ST act. For
this training programme we were invited eminent resource person from different fields and areas, first Resource person was Retired Army Brig.G.J.Singh (Retired chairperson
of Chandigarh Human right Commisssion). He shared his view on constitution provisions and universal declaration on human rights, second Resource person, Dr.Manpreet Grewal
(Principal of Universal Law College), she threw light on protection of Human rights and composition of NHRC. In the third session post lunch session was Dr.Ritu Lehal
(Director of Women studies center, Patiala University) discussed about the rights of women and children and the UN convention on the rights of the child and women. In last
session Mr.Joy Deep Das Gupta (Director GIOSTAR ) told about rights of bounded labour , child labour and SC/ST issues.