Aavishkar-Annual Tech Fest was organized with great zeal and vigor by Universal Group of Institutions, Lalru on 8th and 9th Feb, 2018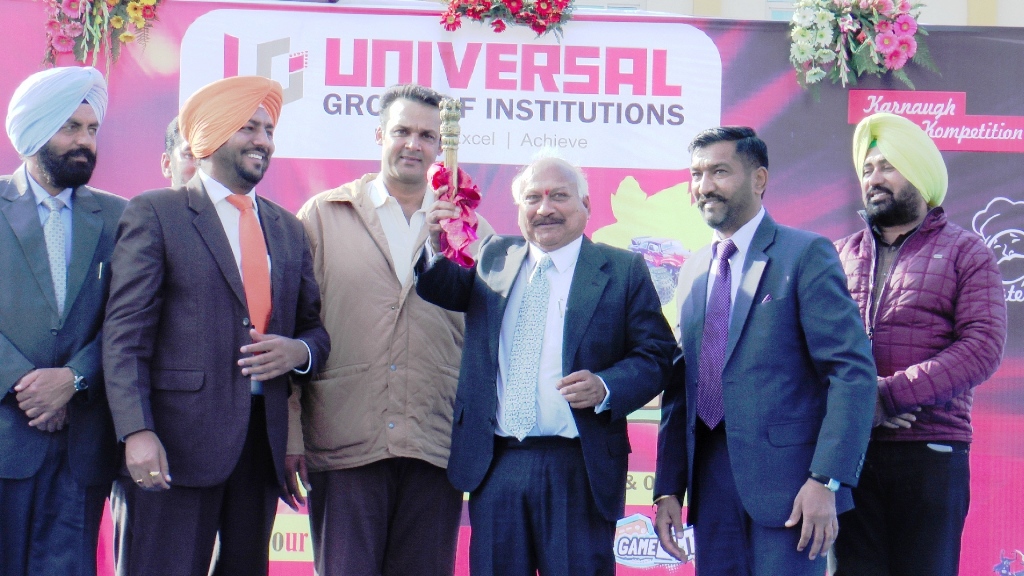 10-02-2018
The Universal Group of Institutions, Lalru organised the closing ceremony of its two days "Avishkaar 2018 annual Tech Fest inside the campus. This Tech Fest is the innovation of creative thinker and academician Dr. Gurpreet Singh (Chairman) Universal Group of Institutions. Various renowned personalities were present over here during these two days. By organizing this Tech Fest, Dr. Gurpreet Singh enlightened to the society that he has a very clear visionary ideology regarding to provide Technical and Non-Technical Education with an International infrastructure and highly skilled team of faculty members. He empowered the main Moto of Universal group of Institutions which is Learn, Achieve and Excel only to produce the first class citizens for our country through a value based Technical and Non-Technical education.
In addition to this, at the opening ceremony of the annual Tech fest, various highly esteemed personalities were present over here. Mr. Brahm Mohindra (Hon'ble Cabinet Minister of Punjab) Health and Family welfare, Research and Medical Education, was the Chief Gust whereas another renowned personalities namely Mr. Parmdeep Singh (SDM, Derabasi), Mr. Amit (Technical Head, J K Cements Ltd. Punjab), Mr. Chandra (Production cum Plant Head, ETE Electro gears), Mr. Chauhan (Production Head, S.R. Precision Components) and Mr. Pankaj (HR Department – Campus Recruitment, IKYAGLOBAL) were also present during the first day.
On the closing ceremony of the annual Tech Fest, Mr. Yashveer Singh Mahajan (State Information Commissioner) was the Chief Guest who shared his personal and professional experiences among all, and Mr. H.S. Cheema (Managing Director, Cheema Boilers Ltd.) being Guest of Honour whereas some other special guests were also became part the day namely Dr. Robin Agarwal (Eye Specialist, M Care Hospital), Mr. Vivek (Campus – Recruitment Team, M Care Hospital), Mr. Ritech Atri (Zonal Head and HR - Punjab and Haryana Region, Dealsdry), Mr. Madan Sharma (HR, MSL), Mr. Sumit (Director, Jobscart), Mr. Lovejot Singh Chhabra (Director, Cyber Defence Intelligence), Mr. Abhey Kumar (HR, Head-Technical, Scope Telecom) and Mr. Vijay Suri (HR – Head, Mirage Glassed). All the distinguish guest visited the stalls which were installed inside the campus. Further, more than a dozen schools, colleges and Institutions visited on this day. In which approximately three hundred students got engaged in watching all the innovations and discoveries invented by the students of Universal Group of Institutions. The refreshment for visiting youngsters was provided by the host of the Tech fest.
Moreover, Girl students from Universal Group of Institutions performed Punjabi Bhangra in front of the Chief Guest with great enthusiasm which captured the attention of all and got a huge applaud at the end. A skit performance regarding 'Beti Bachao Beti Padho' was staged by the Student of Universal Group of Institutions in which a clear message was delivered to save the girl child and to teach her. In addition, the performance of a Standup Committee was performed by the students of Universal Group of Institutions which created a huge laughter among all. A prize distribution program held at the end of the function in which student were awarded by Certificates and Trophies. With these performances the closing ceremony became very charming and time captivated.