UGI organised a Faculty Development Programme (FDP) on "Inadequacy and Challenges of Teaching Learning Process"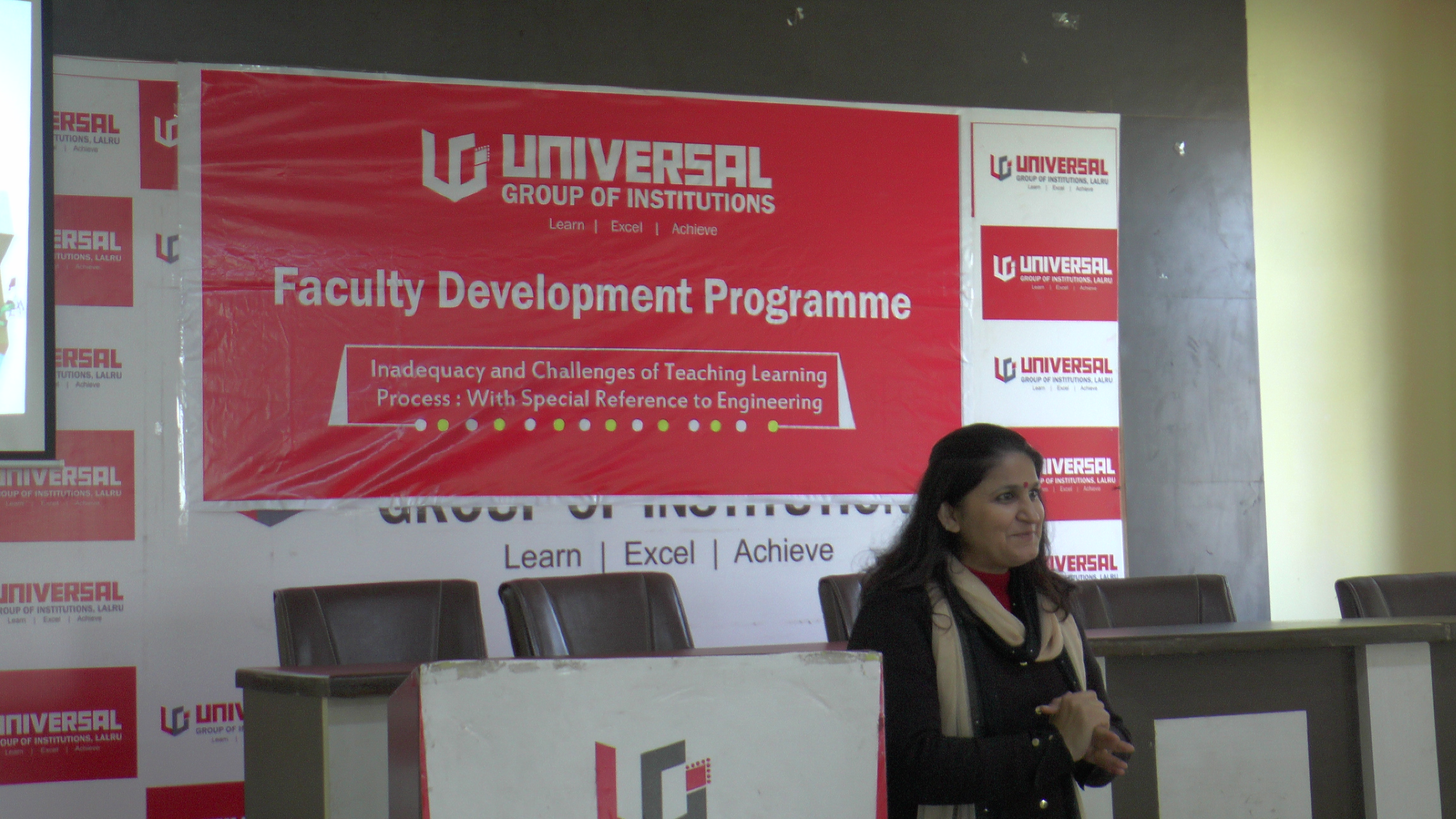 14-01-2018
A one day Faculty Development Programme on Inadequacy and challenges of teaching- learning process: with special references to Engineering (Morning Session) was organised by the Universal College of Education on 10 th January, 2018 attended by the whole faculty and members of staff of Universal Group of Institutions .Dr. Gurpreet Singh Chairman ,UGI inaugurated the session with the motivational words: "Talents wins games but teamwork and intelligence wins Championship."
The FDP aims to provide knowledge about teaching - learning process and highlights the seven challenges of teaching- learning process faced especially by engineering faculty and their solutions; which were also suggested by the members of faculty during interaction session. Mr. Ravinder (Assistant Professor, DSGCE) described the, meaning, Principles and methods of teaching learning process and the environment in which it takes place. In the evening session, the topic of the FDP was Team Building & Team –Working and the resource person was Dr. Kompal Wadhawan, Principal, and Universal College of Education. She elaborated the main components of Team –building and the working of the team. By incorporating interesting stories she highlighted it's not slow and steady but fast and consistent who wins the race.
Through elevated power point presentation and inspirational videos she proved her view point elaborated team work with a Quote "It is less me and more we". After that she explained the two types of motivation which helpful in working together. She provided information about different stages of team development while various questions were raised on the topic participants which made the discussion very lively. The significance of team work was highlighted by games the session was very much informative. The discussed areas are very beneficial for those who are team leaders and for those who are a part of the team She concluded the session with Together Everyone Achieve More i.e. T.E.A.M. The programme was concluded with vote of thanks by Director (Academics) Ms. Prabhjot Jolly.