UGI organised Joint Campus Placement Drive with Tech Mahindra Ltd. on 27th September 2018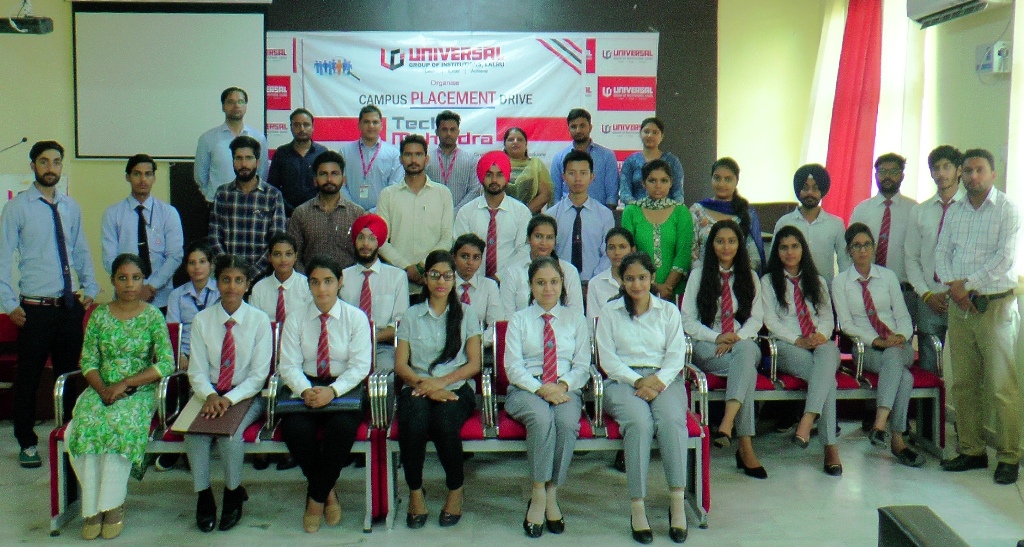 29-09-2018
The Training and Placement Cell, Universal Group of Institutions, Lalru organised Joint Campus Placement Drive with Tech Mahindra Ltd. on 27 th September 2018. This Joint Campus Placement Drive was one of the biggest campus drives of its kind in the region that brought together the diploma and graduate jobseekers under one roof serving a platform for open and vide range of job opportunity for the students.
200+ students from various colleges participated in the drive out of which 12 got selected and 35+ students got shortlisted for various positions. Chairman, Universal Group of Institutions, Dr. Gurpreet Singh welcomed the HR of Tech Mahindra (Mr. Ovais and Mr. Mohit) and addressed the participants with extending his best wishes to the students. He further said that such interaction with the industry offers a tremendous opportunity to the students who manage for finding a job that fits their requirements and profile. The HR Manager of Tech Mahindra Mr.Mohit Mandyal gave the detailed PPT to the students & highlighted the scope of jobs in IT and Communication sector Industries followed by Group Discussion and Technical Round and Personal Interview.
Director- Research & Placements, Ms. Prabhjot Kaur, said that Universal Group is fully committed for the placement of its students at reputed national and international companies. She also congratulated the Placement Cell of the Group for putting round the clock efforts for this Placement Drives. Training and Placement Officer; Mr. Ravi Pratap Singh said we have worked hard to establish our name in terms of placements and Quality education in such a short span of time of 9 years. More than 200 companies have visited Universal Campus till now. He expressed his great joy at the remarkable success of the drive and said with the unceasing efforts of the Management, staff and students the group succeed to call Tech Mahindra second time in a span of 6 months.