UGI Organised "EUPHORIA 2K18 - WITH MESMERIZING MOMENTS"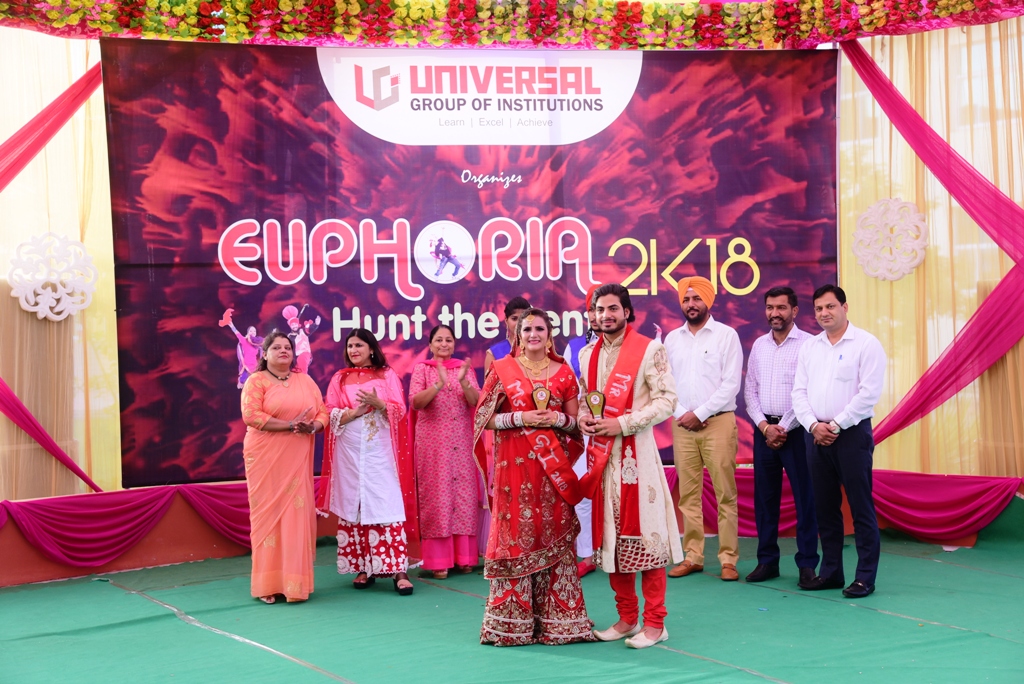 02-11-2018
A natural-talent-nurture event "Euphoria 2k18-to hunt the bent" reached at par-excellence during two days and end up with mesmerizing moments inside the green campus of UGI. Hon'ble Chairman (Dr.) Gurpreet Singh has proved time and again that his vision of learn, excel and achieve always hone the natural skills of youth of the nation. Today, the amalgamation of education, ayurveda and politics placed together on one platform at the closing ceremony of Euphoria 2k18 in which the chief guest was Mr. Dipender Dhillon (Senior Congress Leader and Vice President of Punjab Congress) and distinguished guests of the day were Dr. Rakesh Kumar (Director, Ayurveda Punjab) and Dr. Sanjeev Goyal (Registrar, Board of Ayurveda and Union of Punjab).
In addition, while addressing to all Mr. Dipender Dhillon shared his views about the importance of education for providing first class citizens to our country. He told that today we need more strong and effective education policies in order to curb social evils such as drugs addiction, female feticide, inequality among opposite genders and unemployment etc. He further stressed that today we should take care of our youth and its' needs and natural talent developments at priority basis otherwise we would have to ready to face lack of human beings as a recourse in near future. On the other hand, Dr. Rakesh Sharma during his address pointed out that we need to look back to our Ayurveda and Vedanta philosophy if we want to escape the brain of our youth. He mentioned that today entire world has been following and practicing our ayurveda and yoga philosophies for having a healthy body and sound mind. He also stressed upon that today our youth must have to start working with belief on our old ideologies and philosophies so that they can escape themselves from the trap of virtual world.
Moreover, a number of events in various forms of talent hunt were held during these two days in "Euphoria 2k18 – to hunt the bent" such as Expressions (extempore, skit, stand-up comedy), Sur-Sargam (poetry recitation, solo and duet songs), Aaja Nach Le (solo dance, group dance, and duet dance), Andaz-e-Hunar (Rangloi, Mehandi, face painting, tattoo making, nail art) etc. Ms. Kusum Devi and Mr. Manohar Singh from UIMT were declared Ms. & Mr. UGI respectively. The overall running-up trophy was won by Universal Institute of Engineering and Technology. Finally, Hon'ble Chairman Dr. Gurpreet Singh expressed his views about the future of youth. He asked that 'self believe is the biggest power' in order to achieve something valuable in life. He motivated to the all the students and faculty members by his words of wisdom. He thanked all who were present over there at the venue for making this event successful.