UGI conducted 6th Convocation Ceremony in the Campus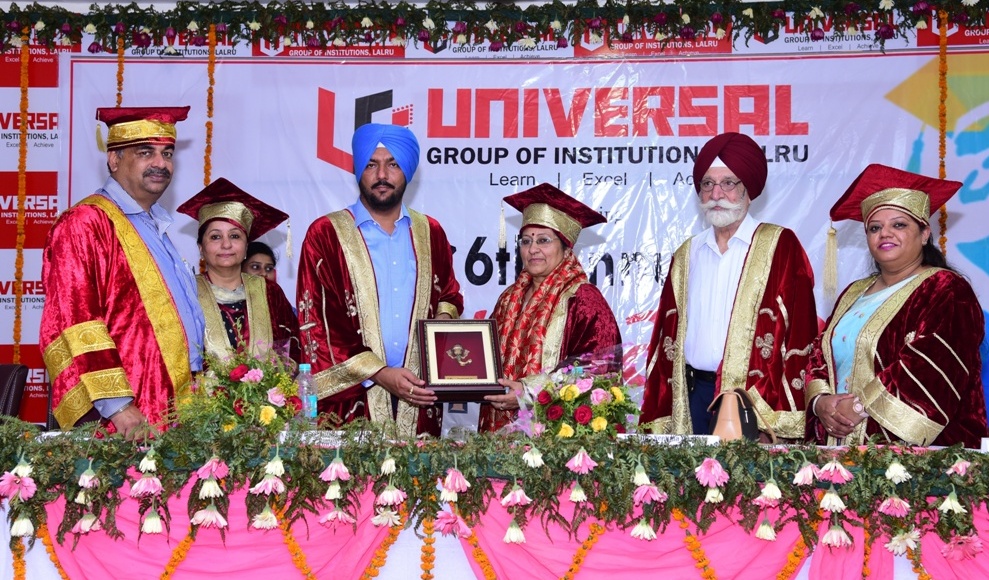 01-07-2019
Our ritual consciously evokes our own past and that of our predecessors, nowhere is this more evident than in those convocations that mark the inauguration of a new beginning of the Universal Group of Institution, in which representatives of colleges march in ancient academic dress, entering the procession in reverse order of the founding of their institution. At the same time, our ceremony affirms the inseparability of the Universal Group of Institution from all who have passed through its gates. Universal group of the institution 6th Convocation was held on S, 29 th June 2019 at our very own campus,. 150 Degrees were awarded during the convocation for Batch as it was a journey with lessons and memories.
The convocation began with a majestic and grand procession followed by the lamp lighting. The convocation ceremony was formally opened by chief guest Dr Neelima Jerath, Director General, Pushpa Gujral science city, lighted the lamp. The guest of honour for this special day was Brigadier Dr. R.S. Gerewal, Former vice chancellor Chitkara University. He addressed to the students 'to be honest and preform sincerely for the sake and betterment of society' .The director academics Dr Virender Kaur welcomed the gathering . She said "This is the biggest milestone crossed in the lives of students, but there are many like this to be achieved. The college is proud that the students of this college got placed in many renowned companies and they are the brand ambassadors of the college". The students and the audience were then enthralled by the rousing speech by Director Academics.
The chief guest made the convocation addressed, in her speech she said, believe in yourself, believe in all that are all that you can be ,all that you stand for. There's no short cut for success. She also added that don't stop dreaming high". She concluded her speech by stressing on the fact "graduation is only the concept, in real life each and every day you are graduating with different challenges. She further added that graduation is a process of life that goes on until you take your last breath, Dr. Gurpreet singh Hon'ble Chairman-UGI addressed to students "Convocation Day marks the culmination of rigorous and action packed year filled with learning, networking growth and career progress. He advised students to figure out what is lacking to be successful in future and set a goal to achieve big.
After the Distribution of degrees the oath taking of the degree recipients was conducted by Director R&D Dr Prabhjot Kaur. The students took the pledge to be honest in the discharge of their duties and will be faithful in every aspect for the betterment of the society. The Convocation concluded with the Vote Of Thanks by Dr Kompal Wadhawan and National Anthem sung by the students and staff of the Institute.