UGI Celebrated International Women's Day with Great Zeal and Enthusiasm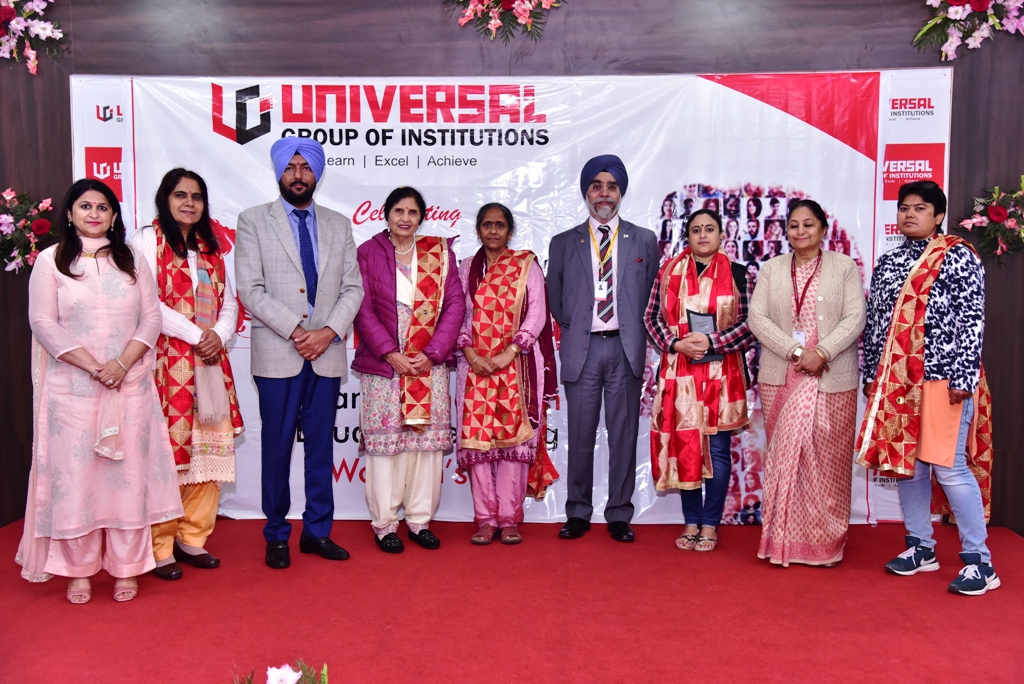 08-03-2020
I am generation equality: realizing women's right this slogan demands equal right in pay, an end to violence and sexual harassment against women, equal love, respect and care in home and equal participation in politics as well as in decision making in all aspects of their life. To give love and gratitude to women's unpaid efforts in home as well as in society, Universal group of institutions celebrated women's day on eve of International Women Day. Dr. Virender Kaur, Director Academics welcomed the guests of the day and talked about their contribution in their fields. She said that a woman has a major role in shaping the society. A woman is an idol which should be prayed by both family and society. Women are not less than any men in any field.
Dr. Ameer Sultana,Chairman,Dept-cum-centre for women's Studies and Development,Panjab University,Dr.Gurminder Sidhu,Retd.Senior Medical Officer from Health deptt.Panjab,MBBS,Dr.Mandeep Snehi,Prof. Punjab Constitutional College,Balachaur, Dr.Sukhbir Kaur,DAV College, Dr.Kamlesh Sidhu,Principal,RKSD college, Kaithal and Dr. Krishna Baachal Writer-Haryanvi were the guests of the day. They shared their views on the contributions of women in the up gradation of society. Apart from celebration of their achievements, the day is used to express our respect, appreciation and love towards the powerful gender. Dr.Gurpreet Singh, Chairman, UGI congratulated everyone on International
Women's day and in his message said that females are the best performer in every field. We can see them flying high in sky and achive greatness they can.
There was a time when people considered that female gender is a weak gender but the tables have turned. With thriving persistence and hard work they have become the best versions of themselves. Women should be given proper education and support so they can become the best version of themselves.
At the end, Dr.Kompal Wadhawan, Principal, Universal College of Education extended a vote of thanks to the guests of the day, Chairman UGI, all HOI's of all institutes of UGI umbrella and all present. She also appreciated the faculty's efforts to make this event successful.