Guest Lecture on Polymers in Daily Life was organized in UGI by Applied Science Department of UIET.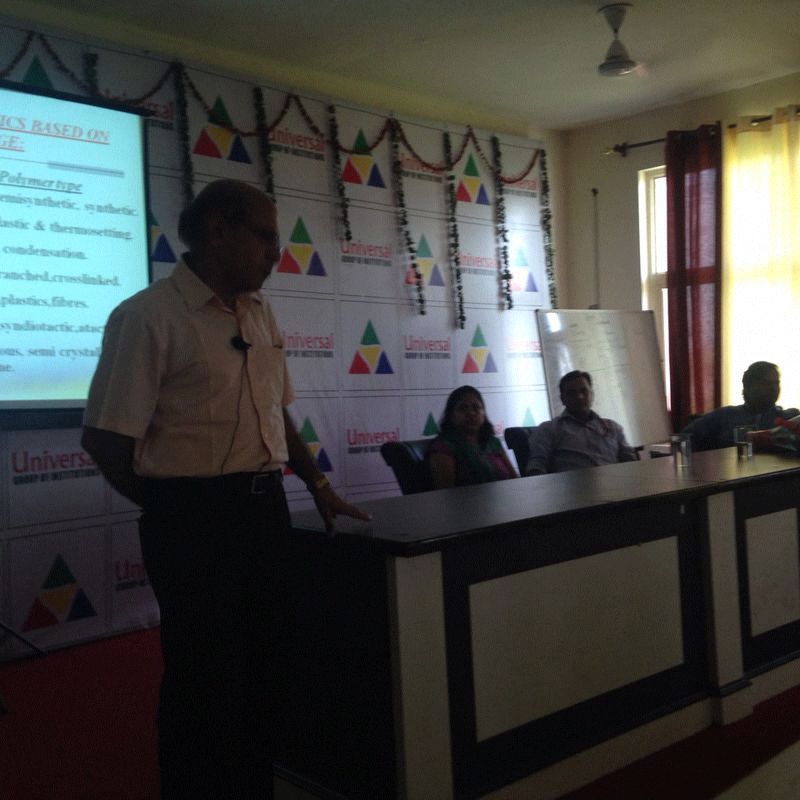 22-09-2014
A guest lecture by Dr. (Mr) Ramesh Dogra Universal college of Arts, Science and commerce, Ballopur was held on 22th Sep, 2014 in Universal Institution of Engineering and technology, Lalru. The topic of the lecture was POLYMERS IN DAILY LIFE. Dr. Gurpreet Singh, Chairman of UGI and Mr. Vikas Sharma, HOD, Applied Sciences were present there. Dr. Rachit Garg, Director of UIET, welcomed the guest.
The lecture started off with first understanding the concept of polymers and he said that Polymers are a part of our everyday life and without them around, this world would be very, very different, if not impossible to live in. However, most people do not even know what a polymer is, or just how widespread they are around us. Dr. Dogra also made them aware about the structure of polymers very thoroughly by showing PPT.He also shared his views on that Polymers are everywhere, so much that it is very difficult to spend a day without encountering a natural polymer, even if hair is removed from the list. He also told that we should minimise use of polymers and also told the solutions of polymers like material reduction, design for end-of-life recyclability, increased recycling capacity, development of bio-based feedstock, strategies to reduce littering, and the application of green chemistry life-cycle analyses and revised risk assessment approaches. Such measures will be most effective through the combined actions of the public, industry, scientists and policymakers. After the completion o f lecture, Dr. Dogra answered the queries of students related with this topic.
At last, Mr. Vikas Sharma, HOD, Applied Sciences thanked Dr. (Mr) Ramesh Dogra, our guest and all present.