UGI organized a Professional Competition for CSE students of UIET.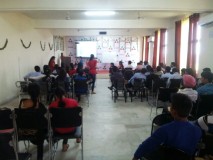 29-08-2014
Objective : To encourage students to find out errors in C++ programs to increase programming skills.
Abstract: The competition was participatory and started by giving students C++ programs to find errors. They were given multiple choice questions to find appropriate output.
Students activity: They were given programs to implement in C++ to better understand the program and improve their practical knowledge and enhancing their programming skills.
Following students secured respective positions:
Khushdeep Kaur
Monika Singh
Banke Bihari